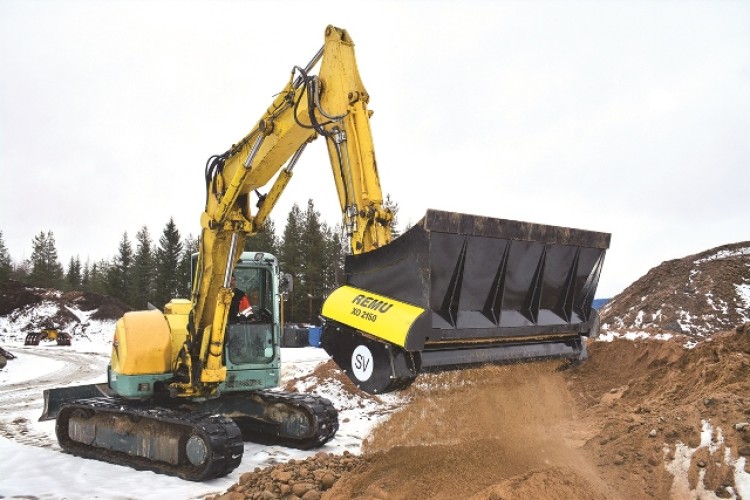 The Crossover bucket (XO for short) was officially launched by Remu's dealer to the UK market at Plantworx in June, although the first order stems from a meeting at the Scottish Demo Days event in April, despite the new bucket not even being on show there. 
John MacIver of Angus Maciver Ltd in Stornoway had originally gone along to look at a crusher bucket, but ended up placing the first UK order for the XO without even seeing it. 
David Marshall, Worsley Plant's area sales manager for Scotland, explained: "The customer came down for a full two days and ended up buying the XO on the strength of the spec sheet and seeing a video. The first models should start arriving in this country in the next few weeks after we placed an order with Remu at the Intermat show in Paris." 
Angus Mciver provides building and roofing supplies on the Isle of Lewis.  It has bought the Remu bucket as a potential solution for recycling waste plasterboard.  It will also offer an additional waste disposal service to those that they sell plasterboard to.  The bucket will have other uses too, including screening topsoil.

The Crossover bucket is a bucket frame that can be connected to several work modules, enabling 10-minute changes for different jobs.  Instead of changing the bucket, just the module is changed.
There are 3 modules available:
SB – blade screen module
SC – screener crusher Module          
SV – vibrating screening module.
Two different sizes of the Crossover bucket are available initially.  The XO2090 is recommended for excavators over 5 tonnes and the XO2150 for excavators over 8 tonnes.
Got a story? Email news@theconstructionindex.co.uk