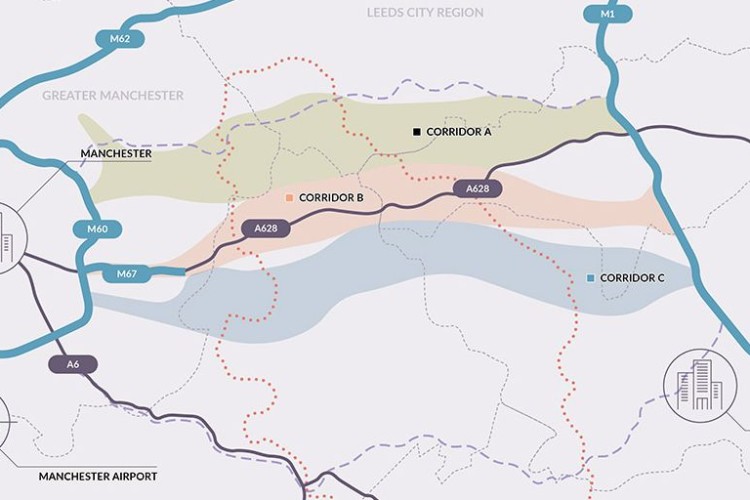 All five routes link the M60 east of Manchester to the M1 north of Sheffield, with four options starting at the M67. The tunnel could almost halve journey times between the two cities, saving around 30 minutes.
Trafficmaster data shows that the current journey between the urban centres of Manchester and Sheffield via Pennine routes other than the M62 is approximately 40 miles and takes an average of 75 minutes. The distance between Manchester and Sheffield via the M62 is around 75 miles and the average travel time is 95 minutes.
Transport minister John Hayes said that it would be the most ambitious project since the construction of the first motorways 50 years ago.
Civil engineering contractors responded by calling on the Department for Transport to engage with its supply chain from the get-go to ensure efficient delivery of the next wave of big road schemes. The announcement about the tunnel was accompanied by reports making the case for improved connections between Oxford, Milton Keynes and Cambridge and upgrades to key parts of the A1 in Hertfordshire, Bedfordshire and Cambridgeshire (links open in new tabs).
CECA head of external affairs Marie-Claude Hemming said: "CECA has long argued for investment in world-class infrastructure to ensure the UK remains an attractive place to live and work. As such we welcome the publication of these long awaited reports which will deliver this growth through quicker, more reliable journeys. But in a time of economic constraint, it is imperative that these projects are completed with speed and efficiency. CECA believes that in order to build these new routes on time and on budget, the DfT and its delivery partners must engage with their potential supply chains early in the development process and we are keen to offer any assistance needed."

The final stage of the Trans-Pennine study, due to be completed by the end of this year, will include assessments of the the strategic and economic cases for each option, together with cost estimates.
The Trans-Pennine tunnel study was one of a number of road launched by the government in autumn 2015, one of a number of studies aimed at addressing some of the biggest challenges facing the road network in the UK. Today's study shows the continued strong case for the tunnel which could provide safer, faster and more reliable journeys for motorists.
The link would reduce traffic through the Peak District National Park, as well as support the government's plan to build a 'Northern Powerhouse'.
Two further reports – the A1 east of England and the Cambridge to Oxford expressway – were also published yesterday. Studies into the M25 south west quadrant, the Manchester north-west quadrant and the Northern Trans-Pennine are also underway.
Final reports of all six will be completed in the next six months and will inform the development of the government's second Road Investment Strategy which will get under way from 2020.
Got a story? Email news@theconstructionindex.co.uk