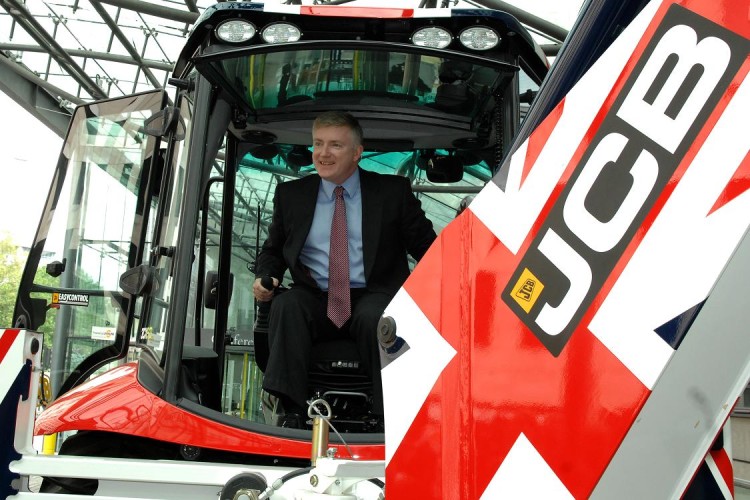 British construction equipment manufacturer JCB added a splash of patriotic colour to a showcase exhibition at the Department for Business, Innovation and Skills (BIS) with its latest backhoe loader, painted in the colours of the Union Flag, taking pride of place outside its offices in 1 Victoria Street, London.

The exhibition, unveiled by Business Minister Mark Prisk, is the first in a planned rolling programme of themed displays demonstrating excellence in British design, engineering and manufacturing. JCB was one of a number of engineering companies invited to participate in the opening programme which was focused on the engineering supply chain.

The 3CX Eco backhoe loader on display is a brand new model designed and developed by JCB after a multi-million pound investment to develop a more fuel-efficient machine, which will cut customers' fuel costs by up to 16 per cent, saving average users around £3,536 in fuel costs over three years.

Business Minister Mark Prisk said: "Britain is a world leader in manufacturing but if we are to inspire future generations, we must do all we can to promote UK excellence. JCB is a shining example of British design, engineering and manufacturing and I am pleased their new fuel-efficient backhoe loader was on display at our first manufacturing industry showcase event."

JCB Chairman Sir Anthony Bamford said: "JCB has always flown the flag for British manufacturing and we will continue to do that as this country is a fantastic place to do business. Our backhoe loader has been a manufacturing and export success for nearly 60 years. Our investment in this latest generation of machines will build on that success and help our customers save money on fuel during these tough economic times. "

The fuel savings are derived largely though the introduction of a new hydraulic system which utilises three hydraulic pumps instead of two, providing the same hydraulic output but at lower engine speeds. The introduction of power brakes also contributes to the fuel savings.

The backhoe loader - the construction industry's term for a machine with a rear excavating arm and front shovel - was pioneered by JCB's founder Joseph Cyril Bamford in 1953. Today JCB is the world's biggest producer of these products with a market share of 41%.
Got a story? Email news@theconstructionindex.co.uk