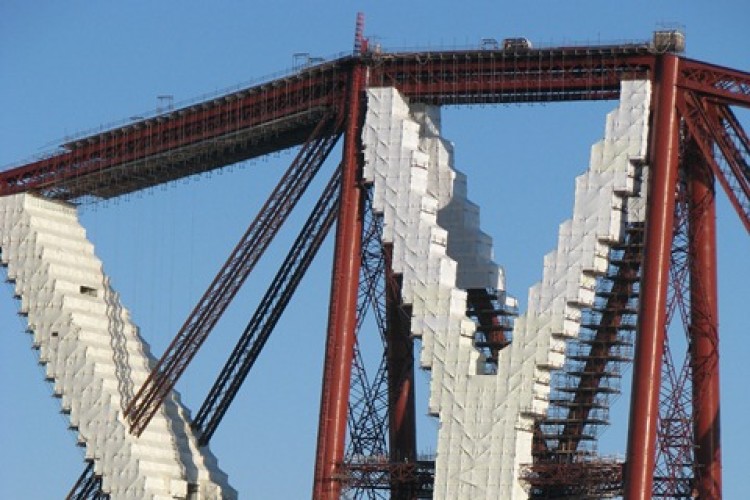 After 10 years and an investment of over £130m, the bridge will finally be free of scaffolding, with the next full paint job unlikely to be required again for more than 20 years.
Over the past 10 years some 240,000 litres of paint has been applied to 250,000 square metres of steelwork. Some 6.5 million rivet heads have been painted by hand.
Network Rail Scotland route managing director David Simpson said: "Network Rail is the proud steward of our railway history, which the Forth Bridge exemplifies. Since 1890 it has been a working monument to the genius of British railway engineering. Over the last decade, the bridge has been restored to its original condition and its new paint will preserve the steelwork for decades to come.
"The current restoration work has been ongoing since 2002 but, owing to years of underinvestment during the 70s and 80s, the scale of the job was initially unclear. Now, with scaffolding being removed and the final sections of painting being completed, we're confident that job will be finished before Christmas.

"The paint system being used on the bridge has been used in the past on north sea oil rigs. We expect it to last in excess of 20 years but we will be back from time to time to maintain the most exposed sections of the structure."
The current project involves more than the straightforward application of another layer of paint. Scaffolding access is erected and screened off from the environment before old layers of paint applied over the last 120 years are removed using an abrasive blasting technique. Steelwork requiring maintenance is then repaired before the new paint is applied in three protective layers.
Balfour Beatty Regional Civil Engineering managing director Marshall Scott said: "The work that Balfour Beatty Regional Civil Engineering has provided to restore the Forth Bridge back to its original condition will remain as part of a legacy and a testament to the skills and expertise of those who built this much treasured structure more than a century ago."
Got a story? Email news@theconstructionindex.co.uk