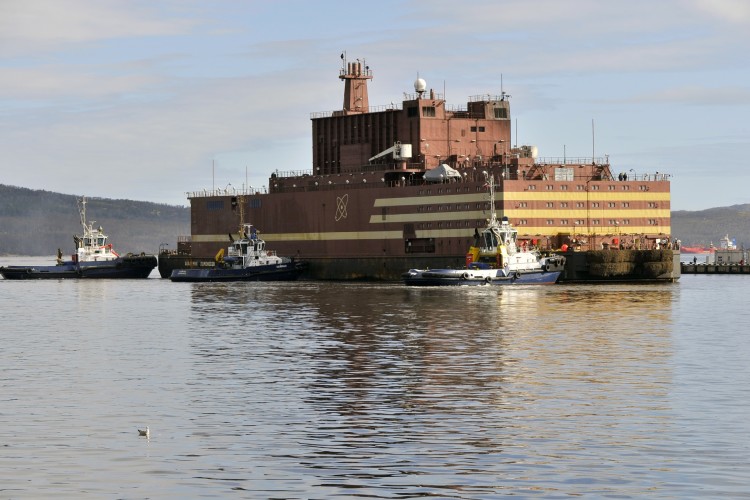 The Akademik Lomonosov nuclear floating power unit (FPU) will then be towed to the town of Pevek in Chukotka in the Russian Far East. It will replace a coal-fired power plant and an ageing nuclear power plant supplying over 50,000 people with electricity.
The developer see potential for deploying similar power plants in island nations where it is difficult to set up the infrastructure for conventional power stations.
Nuclear fuel will be loaded into Akademik Lomonosov's reactors in Murmansk in the coming months. Ahead of it being towed to the sea port of Pevek in 2019. The nuclear FPU is equipped with two KLT-40C reactor systems (each with a capacity of 35MW) similar to those used on icebreakers. The vessel is 144m long and 30m wide, and has a displacement of 21,000t. Akademik Lomonosov – the first ship of its kind – was named for 18th century Russian scientist Mikhail Lomonosov .

En route to Murmansk the Lomonosov has sailed over 4,000km and travelled four seas: the Baltic, Northern, Norwegian and Barents.  Atomfleet, the maritime subsidiary of Russian state nuclear corporation Rosatom held a welcome ceremony took place at the pier in Murmansk. Rosatom director general Alexey Likhachev said: "We have successfully towed the power unit, not yet loaded with nuclear fuel, to Murmansk and are going to fully launch here this unique project, which was only made possible thanks to cooperation of many companies. Akademic Lomonosov is an unparalleled piece of engineering by Russian scientists. It is a first-of-a-kind, reference project for mobile medium- capacity-range nuclear power nits, a product we expect to be in growing demand in the coming years. For instance, we see great interest from all island nations where it is difficult, for various reasons, to set up a developed centralised power transmission infrastructure."
He added: "Despite criticism by anti-nuclear groups, the floating nuclear power plant project has been welcomed by many environmentalists and green groups as the only feasible way to reduce the Arctic's dependency on coal causing millions of tonnes of CO2 emissions and toxic pollution destroying the region's fragile ecosystems."
Rosatom is already working on second generation FPUs, or Optimized Floating Power Units (OFPUs), which will be equipped with two RITM-200M reactors (each with a capacity of 50MW). In additional to having a greater power capacity, OFPUs will be smaller than their predecessors.
Got a story? Email news@theconstructionindex.co.uk