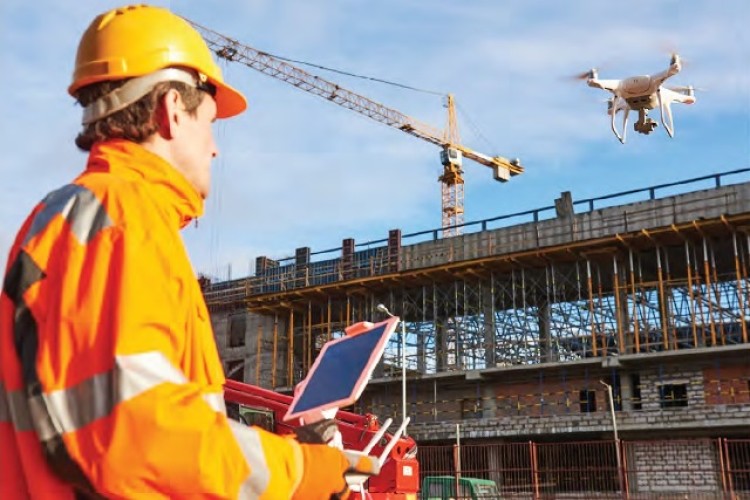 The funding from Innovate UK will create a new organisation called Core Innovation Hub, which is being set up by the Transforming Construction Alliance.
It is a joint venture of the Building Research Establishment (BRE) in Watford, the Manufacturing Technology Centre in Coventry (MTC) and the Centre for Digital Built Britain (CDBB) at Cambridge University.
It will focus on digital design, 'advanced' manufacturing, robotics, drones and augmented and virtual reality.
The Transforming Construction Alliance won the funding through the Industrial Strategy Challenge Fund, an initiative from the Department for Business, Energy & Industrial Strategy (BEIS).
The press statement from BEIS confidently asserts: "The increased use of technology will enable the [construction] sector to design and build faster, cheaper and more sustainably. Smart sensors and digital systems will be incorporated into buildings and infrastructure, so they can manage and maintain themselves – and the data they gather will enable the government and industry to make our towns and cities better places to live, work and travel in."
BEIS minister Richard Harrington said: "We have the opportunity to revolutionise construction in the UK and the Core Innovation Hub will help us build smarter, greener and more efficient buildings much faster and cheaper than we do now. From the introduction of virtual reality to off-site manufacturing, our modern industrial strategy is helping the UK construction sector to develop new techniques and skills - modernising the sector and delivering the homes and buildings our nation needs."
Costain director Keith Waller, who is also an adviser to the Infrastructure & Projects Authority (IPA), has been appointed programme director of the Transforming Construction Alliance.

Neil Rawlinson, strategic development director at the Manufacturing Technology Centre said: "There is huge potential for transformation of large parts of the construction sector to a manufacturing industry. The widespread appetite for change throughout the industry and the impact that this change will have on so many aspects of life in the UK make us enormously excited to be delivering this pivotal role. The MTC brings several key capabilities to the hub, such as design and simulation, and process and manufacturing systems development, including automation and visualisation. The complementary skills of the alliance partners will ensure we deliver for industry and government."
BRE director Martin Ganley said: "BRE is one of the world's leading independent knowledge centres in construction testing and performance standards for the built environment. BRE will provide expertise in the testing and validation of new products, processes, data and assets, and will support the move to digitising construction. It will also provide a leading role in industry engagement and the deployment of demonstrators at the BRE site in Watford."
The Core Innovation Hub (CIH) is a part of the so-called construction sector deal that is being championed by the Construction Leadership Council (CLC). 
CLC co-chair Andy Mitchell said: "The Core Innovation Hub has an essential role to play in delivering increased sector productivity by accelerating industry innovation. It will enable construction businesses to develop and validate new products and manufacturing and assembly processes and will leverage investment into UK offsite manufacturing capability.  The CIH will provide an opportunity for all organisations with an interest in construction innovation to participate in our industry transformation and I urge everyone to find out how they can benefit from this remarkable opportunity."
Civils contractors also expect great things from the Core Innovation Hub. Marie-Claude Hemming, external affairs director at the Civil Engineering Contractors Association, said: "Our sector has historically been slower than others in maximising the opportunities arising from innovation. Understanding innovation's value is vital in a fast moving business climate where markets and technologies are continually evolving. While we have built a highly successful and highly skilled industry to date, if we do not now focus on embedding innovation in our businesses and across the industry as a whole, there is a real risk that our reputation as civil engineering contractors will wane and we will remain fragmented and become uncompetitive.
"The Core Innovation Hub therefore plays a key role in helping industry meet these challenges and will help to successfully put innovation at the very heart of all that we do."
Got a story? Email news@theconstructionindex.co.uk