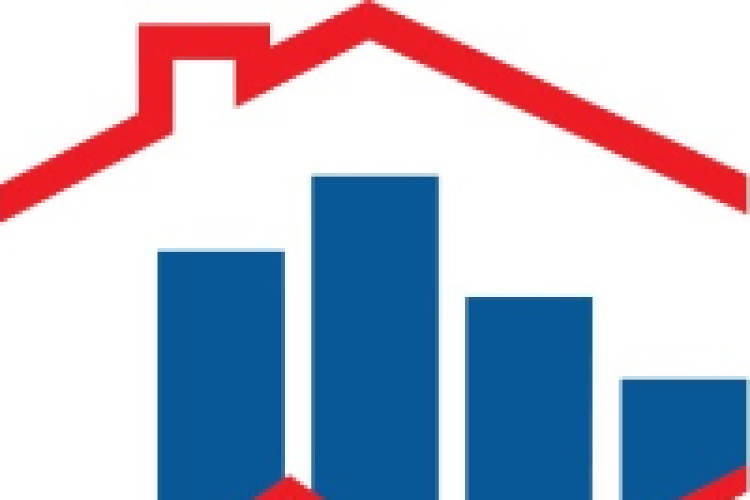 The latest figures from the Builders Merchants Building Index (BMBI) confirmed a strong start to 2017 thanks to relatively mild and dry weather in the first three months.
The overall result of 5.9% growth for the quarter was boosted by a particularly strong performance in March. Sales in March 2017 were 11.4% higher than in March 2016, thanks in part to a late Easter giving an additional two trading days.
The adjusted growth figure was +2.6% per trading day for the whole quarter.
Fastest growing product categories in the Q1 2017 were: tools (+8.8%), ironmongery (+7.2%) and plumbing, heating & electrical (+6.8%).
The ability to start external works in a warmer, drier winter lifted sales in other areas with timber & joinery up 6.7%, landscaping up 6.7% (largely due to sales of block paving and kerbs), and heavy building materials up 6.2% on the back of higher sales of bricks, blocks and insulation.
The Builders Merchants Building Index (BMBI) tracks builders' merchants' actual sales to builders and contractors using GfK's Builders' Merchant Point of Sale Tracking Data. The BMBI represents more than 80% of the value of the builders' merchants' market.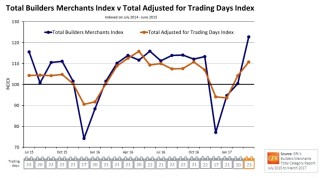 John Newcomb, managing director of the Builders Merchants Federation, said: "The good news is that the positive market trend experienced throughout the last three years continued into 2017. Trading was undoubtedly helped by a mild, dry winter, but if you look at these results in conjunction with the Federation of Master Builders' Q1 State of Trade Survey of SME builders, the sentiment both amongst builders' merchants and their SME builder customers is optimistic.
"However, all Q1 data was gathered before Theresa May called a snap election. There is always a period of uncertainty leading up to a national vote when people put plans on hold pending the outcome. We may well see a degree of stagnation in Q2 until the colour and shape of the new government is clear.
"Another potential fly in the ointment is the spectre of price inflation. In addition to its impact on building material prices, it may also curtail the spending power of consumers in the home improvement market.
"Looking further ahead, stability in the property market is required. Every one of the major political parties has acknowledged the need for many thousands of new homes for sale and rent. We need to see those promises being delivered, which ever party comes to power."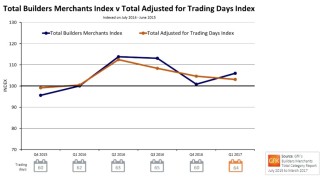 Got a story? Email news@theconstructionindex.co.uk