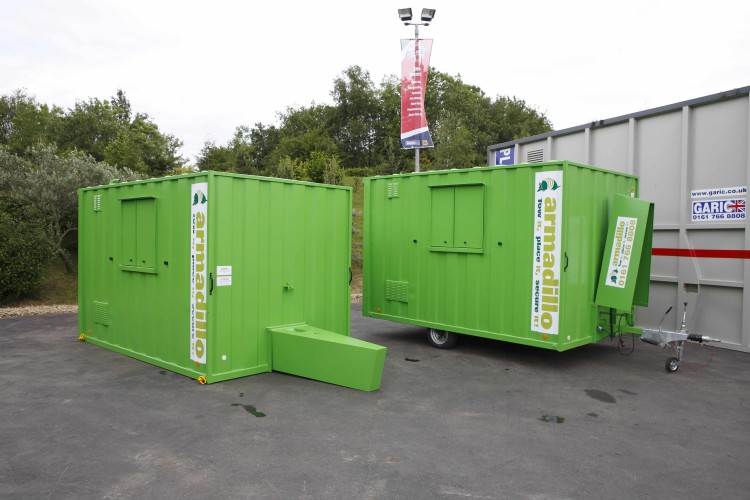 The 12v Eco Armadillo unit is powered by solar PV cells backed up by their own bespoke built 12v super silent generator.
Garic said this distinguishes the product from other eco-cabins on the market which still rely on standard 240v diesel generators and an inverter to reduce the voltage.
It said tests of the new unit with Garic customers, which include the Highland Heritage organisation in the Shetland Islands, showed that the 12v Eco Armadillo uses 80 per cent less CO2 than a standard 240v diesel powered unit and reduced fuel costs by up to £150 a week.
Other features include:
hot running water in the toilet area
motion sensor activated LED lighting
thermostatic heating
Autofrost winter protection
anti-vandal door locks and shutters
hydraulic chassis for stability and security
lockable steel tow hitch cover.
Matthew Gresty, operations director at Garic, said "We have spent almost £4 million redeveloping our standard 240v armadillo to create what we think is the perfect Eco unit, but we will still sit down with any of our customers to discuss adapting the unit to suit their specific requirements. Bespoke builds are our speciality and where most of our best ideas are born."
The 12v Eco Armadillo is part of Garic's newest mobile welfare unit range - The Armadillo's - which are towable by any standard light goods vehicles to help reduce transportation costs.

Garic offers finance options to purchase from £99 per week.
Steven Booth, sales and marketing manager at Garic, said: "At the root of any lean, efficient and environmentally sustainable construction site is the equipment and facilities used by contractors.
"Simple innovations which reduce transportation requirements and provide power using the least possible amount of fossil fuel can have a big impact on margins and eco-performance.
"These issues were at the core of the 12v Eco Armadillo's development while the unit also exceeds current legislative requirements for site welfare provision.
"It's our aim to provide customers with accommodation that helps them to be greener, more profitable and future-proofed from any changes in health and safety regulations, and this is exactly what the 12v Eco Armadillo achieves."
Got a story? Email news@theconstructionindex.co.uk