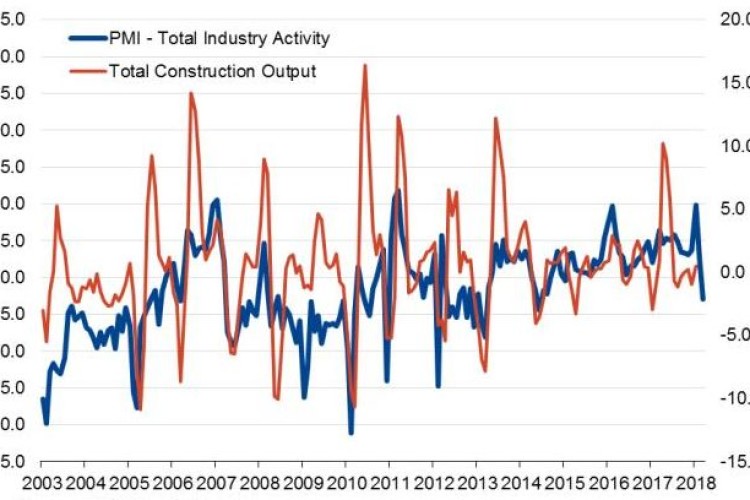 March's findings of the IHS Markit Germany Purchasing Managers' Index (PMI) indicate that the recent unusually bad weather caused disruption to construction activity at end of first quarter.
Data collected from 12-28 March saw the level of total construction activity in Germany fall for the first time in over three years. Civil engineering was the hardest-hit area, though there were also decreases in housing and commercial activity. New orders and employment nevertheless continued to rise, albeit at reduced rates, and building companies remained in a strongly optimistic mood about the outlook over the next 12 months.
The headline seasonally adjusted PMI – which measures changes in the level of total industry activity compared with one month ago – registered 47.0 in March, down from 52.7 and its first reading below the 50.0 no-change level since January 2015. The survey evidence showed that colder-than-usual weather during March had dampened activity. The contraction also followed particularly strong growth in January, when the PMI had hit an 82-month high thanks to milder-than-usual conditions at the start of the year.
Phil Smith, principal economist at IHS Markit said: "It was a somewhat topsy-turvy opening quarter largely thanks to unusual weather patterns, which caused some volatility in the construction data. A warmer-than-normal January saw output levels rise sharply on a seasonally adjusted basis as some sites opened early. However, unusually cold weather in March combined with continuing payback from January's jump in activity has led to the construction PMI falling into contraction territory for the first time in over three years.

"The area most affected by the recent cold snap was civil engineering, where the level of activity showed the steepest drop for almost four years."
Activity in civil engineering fell for the fourth time in five months and at the fastest rate for almost four years. The downturns in housing and commercial activity were more moderate in comparison, though in each case they brought to an end prolonged expansions of growth.
Demand for new construction projects meanwhile remained resilient. This was highlighted by a fourth straight monthly increase in the level of new orders amid reports from surveyed companies of greater opportunities to tender. That said, the latest increase in order books paled in comparison to the survey-record rise seen in the opening month of the year.
Employment in the construction sector also rose more slowly, with the rate of job creation easing further from January's recent peak to a 13-month low. Sub-contractor usage followed a similar trend and was up only slightly since February.
Got a story? Email news@theconstructionindex.co.uk