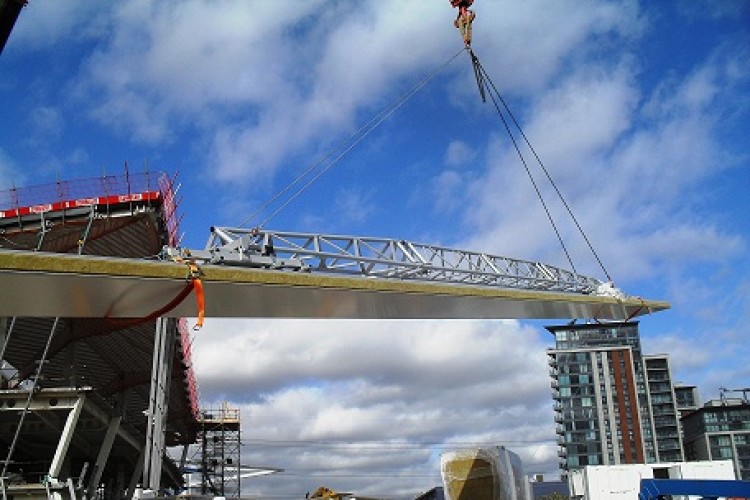 With the aim of the Siemens project being to design and construct a building which could lead the way in reaching the highest standards of sustainability possible, GGR Group were brought on board to provide a time and cost efficient solution to installing special cladding panels onto the 7,000 square metre building .
Insulated glazed cladding panels ranging from 3 metres to 17 metres in length were transported onto the scaffolding before being individually picked up by GGR's Multi-Clad vacuum lifter and moved into place for installation.
Three machines in the Mulit-Clad range were used to complete the job, the standard Multi-Clad lifter on its own for the smaller 3 metre long panels, the Multi-Clad DT6 for panels up to 10 metres long and the Multi-Clad DT10 for the largest 495kg panels being lifted.
This DT6 and DT10 models consist of two individual Multi-Clad vacuum lifters joined together by a 6 or 10 metre long crossbeam, the DT10 being able to lift panels up to 22 metres long and 600kg in weight. The vacuum lifting technology used in this lifter provides a quicker and safer alternative to installing cladding panels manually.

The Multi-Clad Maxi DT10 is one of the highest capacity machines available for lifting longer, wider and heavier roofing and cladding panels, which are becoming increasingly popular within the industry for creating more aesthetically pleasing finishes to buildings.
Using the Multi-Clad lifters, 400 cladding panels were installed, creating a reflective surface on the facets of the building which are designed to catch the natural daylight and create an impressive effect on the waterside.
GGR Group have a range of roofing and cladding panel lifters available for hire and purchase as well as offering training to use this equipment. 
Got a story? Email news@theconstructionindex.co.uk