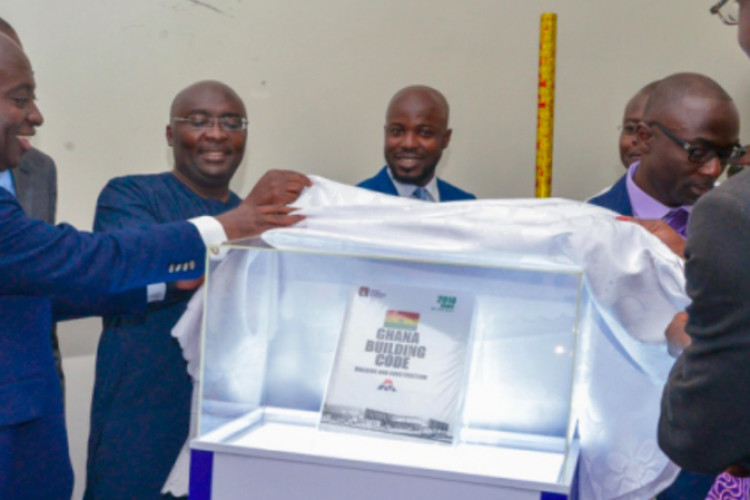 The Ghana Building Code, which is in 38 sections, covers all areas necessary for the smooth and safe operation of the building and construction industry. The code, GS1207: 2018, sets out requirements and recommendations for efficiency standards for residential and non-residential buildings and covers planning, management and practices.
Vice president Dr Mahamudu Bawumia expressed delight that finally, after decades of effort, a standard document to regulate the activities had been produced. "Ghana has been operating without a comprehensive building code since independence. Essentially, it has been a free for all in the building and construction industry with no clearly defined standards.
"Today is a very significant day in the annals of the history of this country. For the first time ever, through the collaborative efforts of different agencies, Ghana has a comprehensive Building Code. The Ghana Building Code, GS1207 of 2018 is a document that is long overdue but which has finally been delivered," he said.
Bawumia emphasized the importance of the Building Code, describing it as a key component of President Nana Akufo-Addo government's determination to formalise the Ghanaian economy and ensure value-for-money in public construction works. "Building Codes are critically important in all countries," he said. They specify the requirements needed for all aspects of building and construction."
"They also ensure value for money by providing a yardstick against which all construction-related procurement can be measured. In this regard, I will like to emphasise that the Ghana Building Code being launched today should be a game-changer as far as ensuring value-for-money in public construction in Ghana," he said.

Bawumia indicated that after the gazetting – formal adoption - of the code, materials used in construction, buildings, schools, roads, hospitals and all types of public construction works must be in line with the standards specified. That, he said, would make it possible to have fairly accurate and uniform costs for all types of construction in the country, and provide safety guarantees.
 "This is definitely expected to provide satisfactory costs for construction projects and ensure achievement of value-for-money," he said. "The Ghana Building Code will make Ghana safer. With the launching of the Code and the passing of the necessary legislation, we can provide relief to the people of Ghana from collapsing buildings as well as assuring the safety of private, public and industrial buildings."
He expressed government's appreciation to the 22-member technical team that worked on the Code. The team was drawn from the Ministry of Works & Housing, Ministry of Trade & Industry, Ghana Institution of Engineers, Surveyors and Institute of Architects, Building & Road Research Institute (BRRI) of the CSIR, and the Ghana Standards Authority.
To ensure its widespread adoption and use, all local government authorities and training institutions will be provided with copies, while the soft copy is made available online by the Ghana Standards Authority. Hard copies will also be available for purchase at the offices of the GSA.
Got a story? Email news@theconstructionindex.co.uk