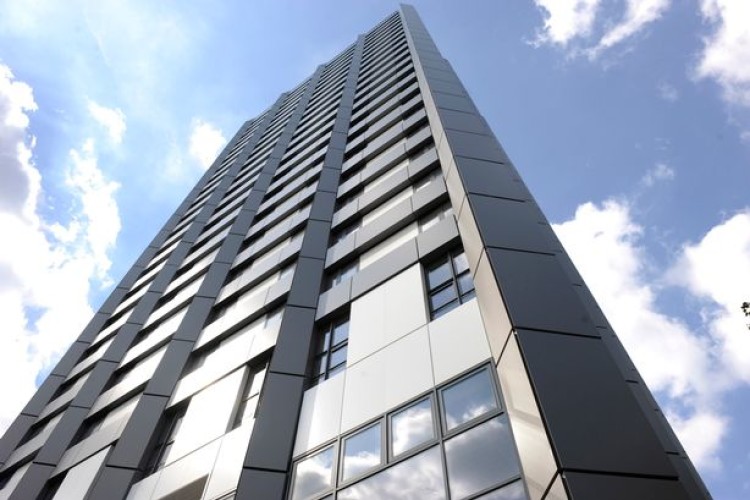 The consultation is inviting views on revising the building regulations to ban the use of combustible materials in the inner leaf, insulation and cladding that are used in external wall systems on high-rise residential buildings.
The government is consulting on proposals to ban combustible materials for residential buildings 18 metres or over, and whether only materials in those top two European classes for fire performance – reflective of the approach taken in Scotland – should be allowed over the entire external wall system, from the internal face of the wall through to its external face. There would be limited exemptions covering parts of the wall (such as paint) that do not present a significant contribution to the risk of fire spread.
Ensuring that façade components are rated A2 or A1 will involve additional construction costs.  It is estimated that for a 15-storey new-build requiring 1,700m2 of cladding, a wall system that comprises only materials of A2 will cost an additional £25,000-£75,000 per building.  Total cost for the proposed policy change is estimated by the ministry at £7.5m to £11m a year.
In the wake of the Grenfell Tower fie in June 2017, the government commissioned former Health & Safety Executive chair Dame Judith Hackitt to lead a review of building regulations, specifically exploring fire safety aspects in tall residential buildings. Under Hackitt, teams of industry experts – including architects, engineers and academics – spent months evaluating current regulations, best practice and international experience.

When the 159-page Independent Review of Building Regulations and Fire Safety: final report was finally published in May 2018, it recommended a new simplified approach based on specifying required outcomes. The report specifically warned against the folly and dangers of government dictating what products, techniques, systems and materials can and cannot be used. But with experts out of fashion, Hackitt's refusal to recommend banning specific types of cladding was deemed to be politically unsatisfactory.
Announcing his intention to ban combustible caldding, secretary of state for housing James Brokenshire said: "The Grenfell Tower fire was an appalling tragedy and we must do everything we can to ensure a disaster like this never happens again. I have listened carefully to concerns and I intend to ban the use of combustible materials on the external walls of high-rise residential buildings, subject to consultation.
"The cladding believed to have been used on Grenfell Tower was unlawful under existing building regulations. It should not have been used. But I believe that the changes on which we are consulting will offer even greater certainty to concerned residents and to the construction industry."
The Ministry of Housing's consultation runs until 14th August 2018. The proposals, and details of how to respond, are at https://www.gov.uk/government/consultations/banning-the-use-of-combustible-materials-in-the-external-walls-of-high-rise-residential-buildings
Got a story? Email news@theconstructionindex.co.uk