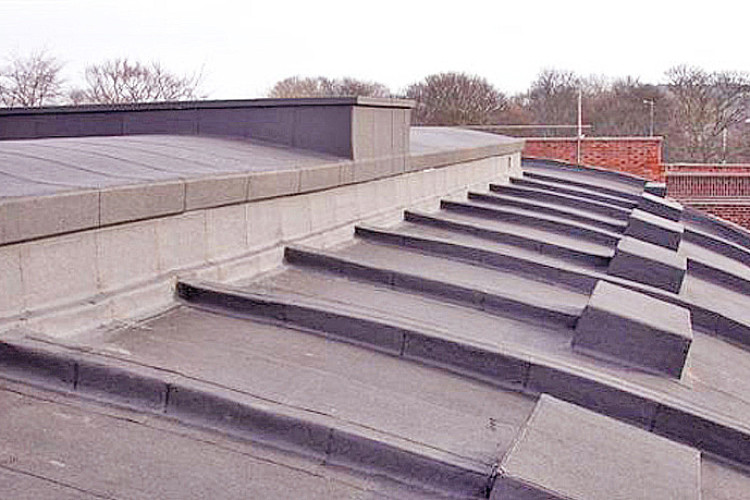 As part of a major refurbishment project, the building has received a major upgrade to its roof, which now benefits from new insulation provided by Gradient Flat Roofing.   
Built in 1941 and owned by Gateshead Council, the swimming baths is the oldest in the Gateshead area and features an unusual and striking design. Roofing contractors John Flowers Ltd chose to install a new roofing and waterproofing system provided by IKO PLC which features Gradient's 3.6mm bituminised Universal insulation board. After Gradient's roofing specialists made a number of visits to the site to advise on the project, it was decided that the tapered boards would feature a carefully calculated series of grooves on their rear faces. This would allow the board to follow the steep contours of the roof which includes a number of areas that are almost vertical. 
"This was a very different type of project, which John Flowers described as one of the most challenging jobs it has undertaken to date," explains Gradient's National Field Sales Manager, Steve Adams. "In addition to ensuring that the insulation boards adhered closely to the roofline, the age of the building and the unusual roof design also meant that we had to use the insulation board to create the correct fall for each roof area and allow effective drainage."   

After the original roof covering had been stripped and the deck primed, Gradient Universal board was laid over an IKO's FireBLOC vapour control layer. It was then covered with IKO's Superbase torch-on FireBLOC plus a torch-on Ultra preveENt  black mineral cap sheet. "We regularly use Gradient products for unusual projects such as this," explains IKO's Area Business Manager, Keith Johnson. Torching the outer layers to the board was the only way to ensure that they remain in place on the steep roof angles, and Gradient was the only company that could supply a board which would allow this." 
"A single-layer system such as ours is ideally suited to a project like this," adds Steve Adams. "A multi-layer system would have to be built-up on site and so would have been extremely difficult to install on a roof such as this. In contrast, our single-layer system allowed us to create bespoke insulation components under controlled factory conditions and then deliver them to site ready for installation. Not only did this ensure effective and accurate coverage of the roof area, but it also helped speed up the installation process." 
Got a story? Email news@theconstructionindex.co.uk