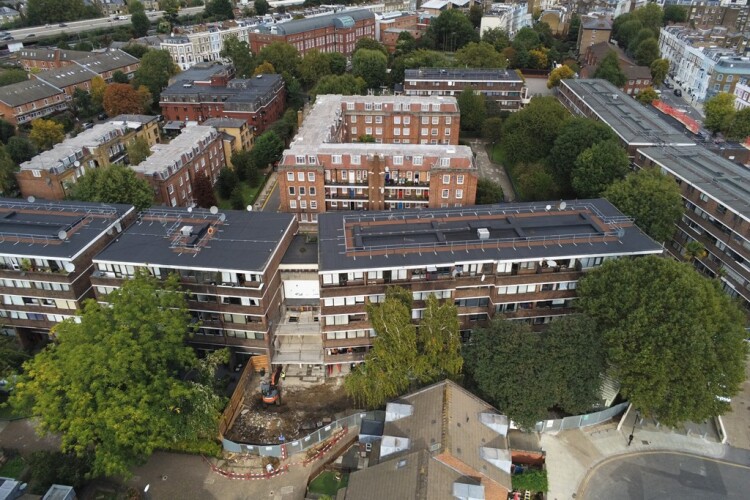 The four pathfinder schemes all use heat pump technology and bring the total amount awarded via the Heat Networks Investment Project to more than £250m.
Heat networks (also called district heating scheme) are a distribution system that takes heat from a central source and pumps it to several buildings. It is considered to be an efficient approach in built-up areas. The government is encouraging their use to support its low carbon agenda.
The projects awarded funding are in London, Worthing, Bristol and Liverpool.
In London, the Royal Borough of Kensington & Chelsea has been awarded £1.1m to develop a new zero carbon heat network able to provide heat to 826 existing homes in North Kensington, and several public buildings and business units. Around 80% of these homes are heated currently by two heat networks which are more than 40 years old, and the remainder use individual combi-boilers and gas combined heat & power (CHP). By using air source heat pump technology, the Notting Dale heat network should be zero carbon from 2030.
Worthing Borough Council has been allocated £5m to implement plans to replace gas boilers in 27 buildings with a heat network that will use a centralised heat pump to take heat from the sewer underneath the town. The use of sewer heat to replace gas boilers follows a discovery that sewers below Worthing contain more than enough heat to replace gas boilers in public buildings. The buildings due to be connected to the heat network include the town hall, library, hospital, leisure centres, law courts, police building and possibly even schools. Future expansion potential of the network could see additional premises connect to the network over time. The £5m will cover preparatory work, initial construction and the appointment of a private sector partner to help finance, design, build, own and operate.
Worthing borough councillor Edward Crouch said: "The prospect of heating huge swathes of the town using the heat that is literally beneath our feet while phasing out environmentally harmful gas boilers, is a simple but wonderful piece of science that, if adopted around the world, could help save the planet. I'm extremely grateful to HNIP for showing faith in our scheme with this funding."

Bristol City Council has previously been awarded HNIP funding for two heat networks in the city and has secured a further £1.7m to support the development of a new heat network. Combined, these low carbon networks are expected to heat more than 6,000 homes.
The Temple Heat Network is being developed to generate low carbon heat from water sources accessible from the regeneration of Temple Island and waste heat from the University of Bristol's Temple Quarter Enterprise Campus. A combination of heat pump technologies will be used to provide low carbon heat to local homes and businesses, as well as student housing, university buildings and education facilities. The technology mix includes a ground source heat pump using a local sandstone aquifer, a water source heat pump using Bristol's floating harbour and extracting waste heat from the university buildings themselves.
In Liverpool, developer Peel, through its supply company (ESCo) Mersey Heat, is setting up a district heat network for its Liverpool Waters development and the surrounding areas. Peel previously secured funding for the first phase of the Mersey Heat network. The scheme was initially designed on a gas CHP generation. The new HNIP funding award of £6.2m will enable the transition to a heat pump system as the main generation source and connect a central cluster of existing buildings (including The Three Graces buildings) with significant load. The funding will support one of two 3MW low-carbon heat pumps, the first of which will be water source heat pump.
More than 2.5km of pipework for the 4.1km network has already been installed at Liverpool Waters and this new funding also enables Mersey Heat to undertake further feasibility studies. When complete, Mersey Heat expects to provide low carbon heat and hot water to up to 9,000 homes and 4 million sq ft of commercial space around Liverpool Waters.
Energy minister Lord Callanan, at the Department for Business, Energy & Industrial Strategy, said: "Changing the way we heat our homes and workspaces is key to tackling pollution and today's investment into new heat networks across Worthing, London, Bristol and Liverpool will ensure these areas are placed at the heart of the UK's green industrial revolution.
"The new networks of air source heat pumps will deliver affordable, low-carbon heat and energy across the nation's homes, universities residences, and business units, while opening up huge job and investment opportunities, making our thriving cities and seaside towns greener places to live, work, and visit."
Got a story? Email news@theconstructionindex.co.uk