It's hard to imagine that the contaminated muck swept from road surfaces or sucked from drainage gullies could ever have any value. But Southampton-based R&W Civil Engineering has developed a simple and effective way of recycling the waste locally to produce clean water, topsoil and aggregates – and savings in the costs of landfill, haulage and the purchase of new materials.
The company has created a treatment centre with a 'closed loop' waste management system for the sundry materials that end up in gullies and on the roads. Gully cleaners and road sweepers bring the wet waste to a processing plant at Hursley, near Winchester, where rubbish is removed and the separated solids and water are both treated to remove contamination. The primary end results are river-quality water and topsoil that is compliant with BS3882. Both are returned to the highway network: the soil to the verges and the water for cleaning gullies. The success of R&W's wet-waste treatment centre in Hampshire means that the business is now eyeing up a site in Avonmouth as the first step in expanding the service further afield.
Traditionally, the waste from gully suckers and road sweepers would have ended up in landfill, but disposal was made harder - and more expensive - by new regulations introduced a few years ago. As well as being wet, the material has potentially high levels of hydrocarbons, contaminants and impurities. The solution is to process it - and although processing stations do exist, they are few and far between. R&W set up its plant in response to a need, on the part of Hampshire County Council and the Highways England Area 3 network, to have the waste processed locally. Material from Hampshire was being transported to the nearest processing station in Dartford, Kent. The lengthy round trip resulted in shorter working shifts, long night-time journeys and reduced productivity.
R&W does not carry out the area's cleaning operations itself and so dealing with the waste wasn't directly its responsibility. But it was already carrying out civil engineering work on the area's highways and had been involved in the Highways Agency (now Highways England) Area 3 team since its inception. "As a business we were always seen as the supplier that was prepared to come up with new ideas," says R&W operations director Howard Hutchinson. "If there was a business need that required investment, we could certainly give it a go."
The idea of processing the waste locally was seen as an opportunity. "Ultimately, it was a product we could reuse and send back out
onto the network," explains Hutchinson. Annually the R&W treatment centre now diverts 7,500 tonnes of wet waste from landfill and the topsoil produced amounted to 3,748 tonnes in 2014. Hardly any material ends up being dumped – just some general rubbish that cannot be reused or recycled. Coming up with an effective method for dealing with all the contaminated water in the mix was a key step in making the operation feasible, as the R&W site has no foul sewer connection. The plant does this by employing technology more commonly used for treating water from vehicle wash plants. Waste is first emptied from the collection tanks into a catch pit where it is allowed to settle to separate solids and liquids. After settlement, the water is transferred to an underground tank for oxygenation before undergoing micro-filtration and antibacterial treatments to bring it up to river quality. However, rather than simply returning this water to the nearest watercourse, R&W uses it to replenish the gully cleaning vehicles. Normally, expensive mains drinking water would be used to fill the tanks. "Now, while the ticket is being written out for the waste they've disposed of, the operators can connect to the on-site supply and recharge with recycled water," says Hutchinson. "When they leave the facility, they are ready to start work again straightaway."
Reusing the treated water in this way is saving 1.5 million litres of drinking water every year. R&W built the wet-waste transfer and recycling station at its existing engineering and logistics facility and at its own expense. Users now include contractors working on Area 3 operations or for Hampshire County Council, as well as R&W lorries and others who have waste for processing. "It's a huge benefit to our clients as well as ourselves," says R&W contracts manager Natasha Hawkes. Latest regulations make landfill an expensive option but there are companies out there that don't have the option of recycling, she has found. "We are getting more and more enquiries as the weeks and months go on," she says.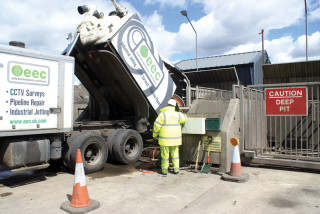 The facility, which was completed in 2013, services the whole county - and indeed also has customers further afield, including Surrey and Wiltshire. As a result, the company is looking to expand the operation. "It would be great to offer these solutions to other companies as well," says Hawkes.  The R&W team estimates that, if every UK county adopted the approach used at Hursley, it would result in up to 80 million litres of drinking water saved each year. R&W's back-of-envelope sums are based on each county having, on average, two gully lorries operating 240 days a year, each consuming 2,000 litres per day. Each county therefore consumes about 960,000 litres a year – and there are more than 80 counties in the UK.
The treatment station was relatively quick to set up, especially as R&W could of course do all the engineering work itself. It worked in collaboration with Highways England, Hampshire County Council and the Environment Agency as well as with contractors EM Highways and Amey and with support from environmental consultant MTS Environmental. Different techniques were tried before arriving at what Hutchinson likes to think of as "our Coca-Cola mix". It took a while to perfect the formula and handle the variable urban, rural and motorway waste. The original incarnation – essentially a place to hold and dry off the material - didn't work very well. "We subsequently knocked it down and started again from scratch, as we saw it wasn't the best solution," says Hutchinson.
The team continues to develop the Hursley plant. Enhancements have included a weighbridge to help measure material throughput. Businesses rely on the recycling figures when it comes to submitting key performance indicators (KPIs) to their clients, says Hawkes, particularly when contract renewals are on the table. As for itself, R&W is always looking for further opportunities to use recycled materials in its own projects, she adds.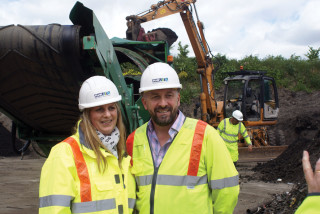 This article first appeared in the October 2015 issue of The Construction Index magazine. To read the full magazine online, click here.
To receive you own hard copy each month in traditional paper format, you can subscribe at
http://www.theconstructionindex.co.uk/magazine
Got a story? Email news@theconstructionindex.co.uk