Former Health & Safety Executive chair Dame Judith Hackitt was commissioned by ministers to review the current regime for building safety.
Her interim report in December 2017 described how the regulatory system covering high-rise and complex buildings was not fit for purpose.
Her final report, now published1, sets out more than 50 recommendations for government for a more robust regulatory system. She emphasises that they are not a shopping list from which measures can be cherry-picked; they all fit together and only in combination will bring about the required change.
"This is a systemic problem," she said. "The current system is far too complex, it lacks clarity as to who is responsible for what, and there is inadequate regulatory oversight and enforcement. Simply adding more prescription or making amendments to the current system, such as restricting or prohibiting certain practices, will not address the root causes. The recommendations in this report will lead to a clearer, simpler but more robust approach to the building and on going management of high rise residential buildings."
The recommendations relate predominantly to higher risk residential buildings, or HRRBs, defined as high-rise (10+ storeys) multi-occupancy buildings.
Among the core recommendations is the creation of a Joint Competent Authority (JCA) as regulator comprising Local Authority Building Standards, fire and rescue authorities and the Health & Safety Executive to oversee better management of HRRBs across their life cycle.
"The new regulatory framework must be outcomes-based (rather than based on prescriptive rules and complex guidance) and it must have real teeth, so that it can drive the right behaviours," the report says. "This will create an environment where there are incentives to do the right thing and serious penalties for those who choose to game the system and as a result put the users of the 'product' at risk."
The report recommends a clear model of risk ownership, with clearer responsibilities for the client, designer, contractor and owner to demonstrate the delivery and maintenance of safe buildings, overseen and held to account by the JCA. Every HRRB should have a clear and identifiable duty holder with responsibility for building safety of the whole building.
Dame Judith Hackitt says the issue is not about banning a certain type of cladding or a certain type of material but about much more radical root and branch reform of construction industry procurement and culture.
"This is most definitely not just a question of the specification of cladding systems, but of an industry that has not reflected and learned for itself, nor looked to other sectors," Dame Judith says.
"Prescriptive regulation and guidance are not helpful in designing and building complex buildings, especially in an environment where building technology and practices continue to evolve, and will prevent those undertaking building work from taking responsibility for their actions.
"An outcomes-based framework requires people who are part of the system to be competent, to think for themselves rather than blindly following guidance, and to understand their responsibilities to deliver and maintain safety and integrity throughout the life cycle of a building.
"We must also begin thinking about buildings as a system so that we can consider the different layers of protection that may be required to make that building safe on a case-by-case basis. Some of the social media chatter and correspondence I have read whilst I have been engaged in this review shows how far we need to move in this respect. The debate continues to run about whether or not aluminium cladding is used for thermal insulation, weather proofing, or as an integral part of the fabric, fire safety and integrity of the building. This illustrates the siloed thinking that is part of the problem we must address. It is clear that in this type of debate the basic intent of fire safety has been lost."

The key issues underpinning the system failure, as laid out in her report, include:
• Ignorance – regulations and guidance are not always read by those who need to, and when they do the guidance is misunderstood and misinterpreted.
• Indifference – the primary motivation is to do things as quickly and cheaply as possible rather than to deliver quality homes which are safe for people to live in. When concerns are raised, by others involved in building work or by residents, they are often ignored. Some of those undertaking building work fail to prioritise safety, using the ambiguity of regulations and guidance to game the system.
• Lack of clarity on roles and responsibilities – there is ambiguity over where responsibility lies, exacerbated by a level of fragmentation within the industry, and precluding robust ownership of accountability.
• Inadequate regulatory oversight and enforcement tools – the size or complexity of a project does not seem to inform the way in which it is overseen by the regulator. Where enforcement is necessary, it is often not pursued. Where it is pursued, the penalties are so small as to be an ineffective deterrent.
The above issues have helped to create a cultural issue across the sector, which can be described as a 'race to the bottom' caused either through ignorance, indifference, or because the system does not facilitate good practice. There is insufficient focus on delivering the best quality building possible, in order to ensure that residents are safe, and feel safe.
Other recommendations include a more effective testing regime for construction products, with clearer labelling and product traceability, backed by a more effective market surveillance system.
The report also calls for procurement reform to prevent cutting corners. For HRRBs, principal contractors and clients should devise contracts that specifically state that safety requirements must not be compromised for cost reduction. Tenders should set out how the solution that is proposed will produce safe building outcomes, approaching the building as a system. The government should consider applying these requirements to other multi-occupancy residential buildings and to institutional residential buildings.
Dame Judith writes: "The invitation to tender and the bid process must prioritise building safety, and balance the upfront capital cost against quality and effectiveness. The safety requirements must be effectively tested during both the tendering process and the bid review. Shorter timescales in both tendering and construction should be achieved by encouraging efficiency and productivity, not by the use of cheaper and unsuitable materials."
She says: "To embed this systemic change will require legislative change and therefore take time to fully implement. There is no reason to wait for legal change to start the process of behaviour change once it is clear what is coming and what is expected. A sense of urgency and commitment from everyone is needed."
1. Independent Review of Building Regulations and Fire Safety: final report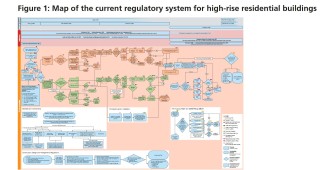 Got a story? Email news@theconstructionindex.co.uk