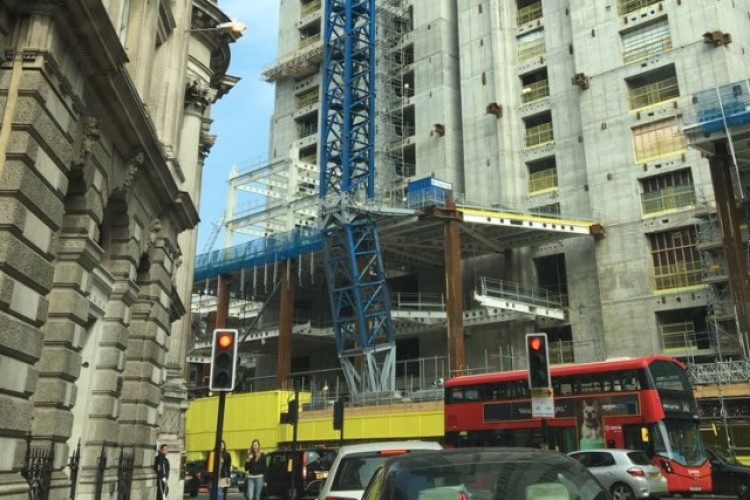 To avoid blocking the road, one of the Favelle Favco tower cranes has an angled bottom section, approximately 20 degrees off vertical, achieved by the insertion of two specially-fabricated sections.
The result is that the bottom section of the crane is footed within the boundaries of the site but leans out over the road. The crane changes angle to vertical at an approximate height of four storeys.
Multiplex engaged crane consultant Robert Bird to come up with the design. The crane manufacturer supplied him with details of the crane's reaction forces.
According to two of the UK's leading tower crane experts, this is a truly innovative crane installation.
Bernard Holman, engineering manager for HTC Wolffkran Ltd, said: "I have not seen anything like this before. However, I think it is an excellent way to place a crane a reasonable distance from the building face, but keep clear of the pavement/road below.  Of course, it is necessary to build part of the building before the crane can be erected to allow the mast to be tied back at the kink point. However, the engineering involved will need to be to a high standard, probably involving the manufacturer of the crane components, to make sure that the whole system is properly analysed and safe."
Trevor Jepson, managing director of City Lifting, concurred. "As far as I know it's a first," he said. "Usually the crane hangs on a 'shelf bracket' half way up the building but these are very heavy cranes."

Favelle Favco cranes, originally Australian but now made and owned in Malaysia by Muhibbah Engineering, have a reputation for speed and strength and while they do not have a large market presence, they are very much favoured all over the world in the construction of skyscrapers because of their hoisting speeds.
The 22 Bishopsgate building, under construction by Multiplex for AXA Investment Managers Real Assets, will be 255 metres (840 feet) tall.
The Construction Index has asked Multiplex for further details.
Got a story? Email news@theconstructionindex.co.uk