The Oscar 600, Oscar 600 Offroad and Oscar 1000 models are designed for lifting heavier glazing panels than the established Geko glazing robot range can manage, but can still operate in the same limited space.
The new machines are available for hire or purchase.
The name Oscar stands for Optimum Strength Compact Articulated Robot. All three machines include dual circuit vacuum lifting technology. The lifting arm is telescoping and articulated for lifting material stored on shelves.
The Oscar 600 glazing robot (pictured above and below) offers 600kg of lifting power with a 730mm wide chassis. Folding outriggers give extra stability if required. The Offroad version has all terrain tyres and front wheel drive.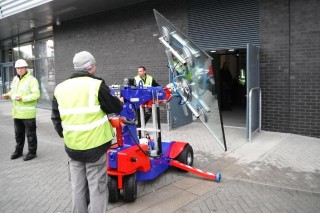 The Oscar 1000 (pictured below), the highest capacity glazing robot in GGR's range, can lift, tilt and rotate glass loads up to 1000kg for inside-out installation on sites where scaffolding or craneage is impossible. Its telescopic lifting arm has a hydraulically powered 180° tilt function for handling horizontal loads and a 360° rotating robotic head for placing units with precision.
GGR Group CEO Graeme Riley said: "With their added lifting power, the Oscar robots are a great addition to our already popular glazing robot selection. Now we can offer a unique lifting solution for those customers working with heavier glass units in awkward lifting locations where inside-out glazing wasn't possible before."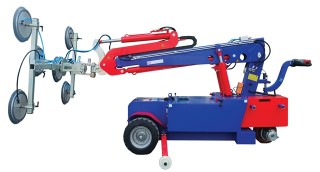 Got a story? Email news@theconstructionindex.co.uk