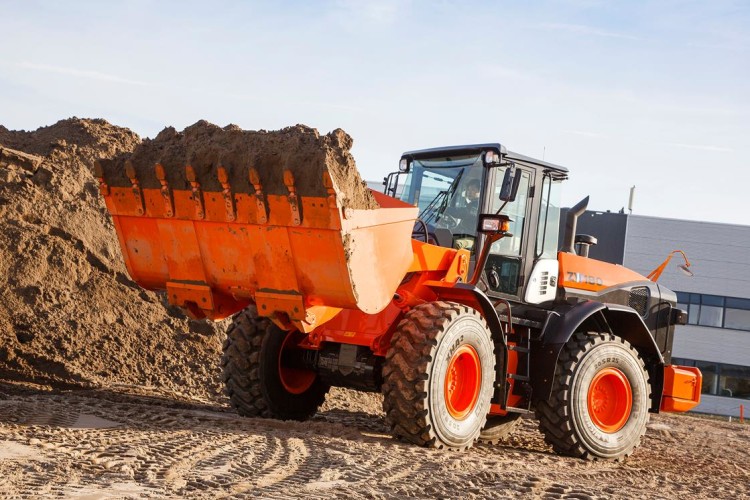 The 6.7-litre six-cylinder water-cooled turbo engine is designed to contribute to high productivity levels by enabling a powerful digging performance and high travel speeds. The ZW180-5 DOC reduces particulate matter from the engine exhaust without the need for a diesel particulate filter. A chemical reaction occurs at normal system temperatures, allowing a reduction of particulate matter in the exhaust without compromising performance. Fuel consumption is reduced by up to 10% compared to the previous model, thanks to the five-gear transmission and the new fully electronic controlled engine, which combines a high-pressure common rail system and the DOC.
The machine has two simple work modes, suitable for particular tasks. In standard mode, the engine speed is controlled, which allows for efficient acceleration during loading, regular operations and travelling on level terrain. The P mode is useful when greater traction force is required for heavy-duty excavation and travelling quickly uphill.
The ZW180-5 also has a new clutch cut-off system, which controls the timing of the clutch for smooth operation when loading, regardless of the terrain. When travelling at high speed on flat terrain, the clutch can be released early so the wheel loader slows down smoothly by applying the brake pedal. When travelling slowly uphill, the clutch is released by pressing the pedal firmly to allow for easy unloading.

Further ways to minimise fuel consumption are using the eco display, which shows the operator when the wheel loader is operating economically in eco drive; and the optional auto-engine shutdown, which avoids fuel wastage while the wheel loader is long idling.
In the cab, the heated air-suspension seat can slide further back, providing more legroom. The tilting telescopic pop-up steering column has also been repositioned to create additional space.
To enhance safety on the job site, the ZW180-5 offers greater visibility from the operator's seat thanks to a pillar-less windshield, optional rear-view camera and large sun visor. The counterweight is also now visible from both sides of the machine.  
Got a story? Email news@theconstructionindex.co.uk