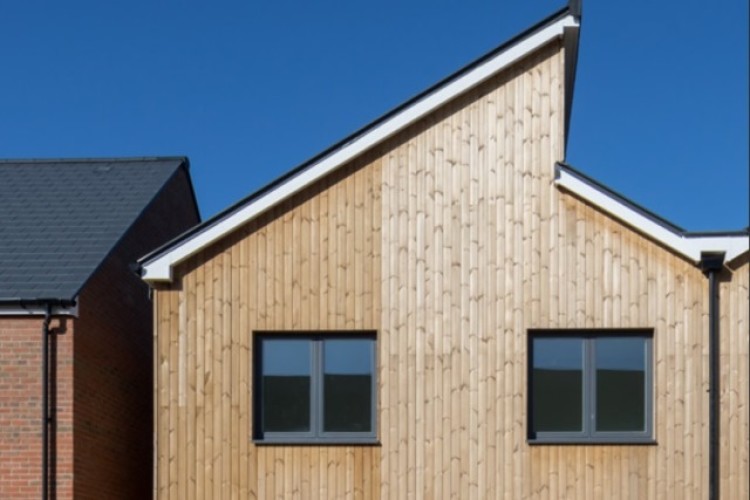 The government house-building agency also intends to provide financial support to smaller developers.
Homes England, previously the Homes & Communities Agency, has published a five-year plan setting out what it plans to do to help the government meet its target of 300,000 new homes a year being built across the UK by the mid-2020s.
The plan lists five priorities: unlocking land, unlocking investment, increasing productivity, driving market resilience and supporting local areas.
The push for prefabrication comes under 'increasing productivity'. A requirement to use modern methods of construction (MMC) will be incorporated in Homes England leases, it says.
In the short term, Homes England plans to "support pilot projects where there is developer interest in testing MMC to learn lessons and understand costs". It will use development finance to encourage developers to put up prefabs to increase the capacity of the off-site manufacturing industry.
Support for SME builders comes under 'driving market resilience'. The five-year plan says: "We'll create a more resilient and competitive market by supporting smaller builders and new entrants, and promoting better design and higher quality homes."
Over the next two years Homes England will provide up to £2.5bn development finance to smaller builders who are unable to access funding from banks through the £4.5bn Home Building Fund, it says. It will launch a Housing Delivery Fund with Barclays to provide £1bn of development finance to increase the pace and volume of housing delivery and support smaller builders. And it will increase its investment with Lloyds Bank in the Housing Growth Partnership to provide up to £220m of equity finance for smaller builders. Tender and legal documents will also be made simpler on smaller sites to make the bidding process easier, it says.
When it comes to unlocking land for building on, early priorities include: progressing enabling infrastructure works on major developments at Northstowe in Devon and Burgess Hill in Sussex; acquiring land and investing in enabling infrastructure to bring forward developable sites where the market will not, using the £1bn land assembly fund; and continuing the disposal of surplus public sector land.

Homes England also plans to pilot a direct commissioning contracting approach under which risk and reward is shared with partners – in return for a significant increase in the pace of delivery – to deliver more than 1,300 starts on seven sites in the next two years.
In the longer term, Homes England plans to deliver at least 2,000 starts on site by March 2023, 4,000 starts a year by the mid-2020s and 23,000 completions by March 2030 through its land assembly fund, which should be self-financing by March 2023.
It also plans to unlock public and private land with capacity for up to 27,000 homes by funding on-site infrastructure and land remediation through its small sites fund and use its local authority accelerated construction programme to being forward surplus council land for up to 32,000 homes.
Homes England chairman Sir Edward Lister said: "Ultimately, we need to disrupt the housing market. Homes England plans to be bold, creative and think big. We hope the whole of the housing sector – big and small, up and down the country – will join us for the next five years and beyond."
Chief executive Nick Walkley said: "The new Homes England is all about making homes happen – and our new 5-year plan sets out our ambitious new approach. We are committing to boosting housing supply, productivity, innovation, quality, skills and modern methods of construction to help make a more diverse and resilient market. In return, we are calling for partners and the wider industry who share our ambition to challenge traditional norms and build better homes faster."
James Brokenshire, currently secretary of state for housing, said: "This government is committed to delivering 300,000 homes a year by the mid-2020s and help more people get on the housing ladder. Homes England is at the heart of these plans. I welcome their comprehensive vision that sets out how through their powers and expertise they will maximise Government investment to deliver the homes communities need."
The five-year strategic plan follows this week's budget announcement of seven new strategic partnerships with housing associations, expected to deliver an additional 13,475 affordable homes by March 2022. The seven new partnerships are with: Platform Housing Group (following the merger of Fortis and Waterloo Housing Associations on the 1st October); Guinness and Stonewater (in partnership); Optivo; Southern Housing Group; Orbit; Thirteen; and Vivid.
This is in addition to the first eight strategic partnership deals announced in July, bringing the total number of additional affordable homes that will be delivered to 27,755.
Got a story? Email news@theconstructionindex.co.uk