The three-month on three-month growth in August 2018 was driven by both repair and maintenance and all new work which increased by 2.8% and 2.9% respectively.
However, construction output declined by 0.7% between July and August 2018, driven by falls in both repair and maintenance and all new work which decreased by 0.6% and 0.8% respectively.
Construction output increased by £1,156m in the three months to August 2018. The most notable contribution to growth came from private housing new work, which increased by £442m in the three months to August 2018. In addition, other notable three-month on three-month growth came from non-housing repair & maintenance and from infrastructure, increasing by £262m and £232m respectively.
The only sectors to provide downward pressure on output in the three months to August 2018 came from private commercial new work and private industrial new work, which had small falls in the three-month on three-month series, decreasing by £45m and £9m respectively in August 2018.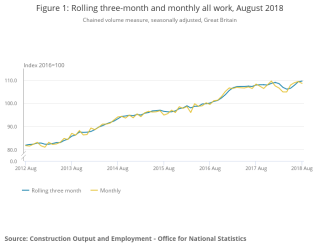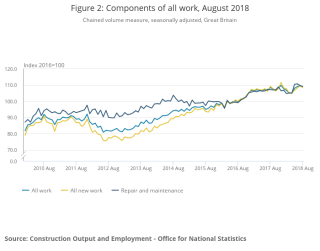 COmpared to the same three months (June-Aug) of 2017, overall construction output in Great Britain was up 1.5%. Regional variations show that construction output in the northwest was up by 15% year-on-year – 10 times the national average.
Commenting on the statistics, Blane Perrotton, managing director of surveyors Naismiths, said: "Britain's housebuilders are hanging on – and still setting the pace in an industry which has been by turns buffeted by plunging levels of confidence, plunging temperatures and a chronic shortage of labour.

"Housebuilding doesn't just have a totemic importance for the industry as a whole – it is also serving as a 'get out of jail' card. The £442m boost it provided in the three months to August underpinned the recovery enjoyed by the industry as a whole.
"But the growth is far from evenly spread – with big regional disparities opening up as the confidence gap widens between the overheated southeast and other areas where demand is stronger and margins better.
"Despite August's softening, the brisk summer has helped the industry make up the ground it lost during the deep-frozen first quarter of 2018 – which saw output shrink by 0.8%.
"Infrastructure too is helping keep builders busy, though the £232m jump in output it provided was mostly focused on existing, long-term projects rather than new ones.
"Across the industry, numbers of new orders are modest at best – and weak at worst – as developers remain deeply wary of committing to new projects. The Brexit deadlock has choked investor appetite and the chances of the impasse ending before a deal is struck remain close to zero."
McBains chief executive Michael Thirkettle said: "These figures, which show a third successive increase in output, will be cautiously welcomed by the construction industry. We're still not out of the woods however, with Brexit worries still on the horizon and the cost of imported materials remaining high due to the weak pound.  Before this recent upturn in output, we saw several months decline so evidence of sustained growth is needed before we can safely say we're on the road to recovery.
"In particular, construction needs some incentives from the government to help give housebuilding a further boost.  We're still building fewer homes than required, and while we heard a lot at the recent party conferences in terms of demand-side policy announcements to help more people onto the housing ladder, there was little detail on the supply side to help the industry build the homes that will allow such aspirations to be met."
Got a story? Email news@theconstructionindex.co.uk