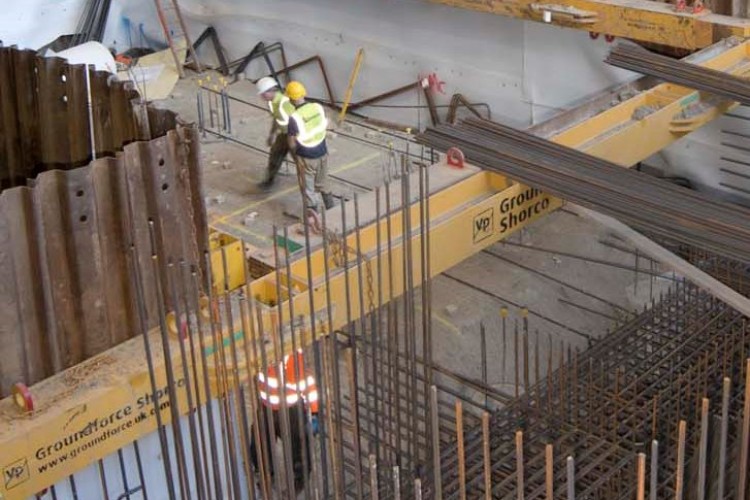 NAMRC, the Nuclear Advanced Manufacturing Research Centre at Waverley Technology Park in Sheffield, is getting a new horizontal boring machine installed. It is believed to be the largest one of its kind in a research facility in Europe, and is capable of manoeuvring work-pieces of up to 100 tonnes in the chuck.
Concrete specialist Richlea Developments is the main contractor and it has called on equipment from two specialist Groundforce divisions.
The concrete foundations are supported by 78 auger-bored concrete piles, each 600mm in diameter and spaced at 2m centres. These were drilled from the underside of the existing floor slab level before work started to excavate the surrounding material.
The excavation, which is roughly T-shaped, measures approximately 35m long x 18m wide and varies in depth from 3.1m to 4.9m.
Richlea director Warren Irving said that he initially approached Groundforce to quote for excavation support, but found it could do pile-breaking and sheet piling too.
Groundforce Shorco supplied the support system, which comprised the company's Mega and Maxi braces with 900 Series braces of varying lengths.
Groundforce's HY6 trench sheets were used to line the excavation whilst Piletec supplied a MS4 EMV piling hammer to install them along with a Taets pile breaker to cut down the concrete piles to the required length.
The piling hammer was also supplied with Piletec's own VibroSafe quick-hitch adapter, developed in association with manufacturer Miller UK.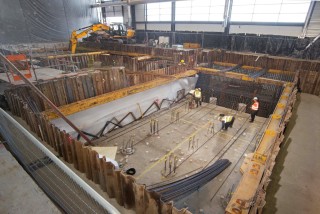 Using a modular hydraulic bracing system minimised obstructions in the excavation which was crowded with the closely-spaced piles.
Working space was optimised by breaking the pile caps with the Taets machine as digging progressed. In all, about 5,000 tonnes of spoil was removed from the excavation.
After reaching the required depth, Richlea cast the blinding slabs to enable lower frame removal before fixing the reinforcement and pouring the main base slabs, using the trench sheets as temporary formwork.
To prevent the concrete bonding to the steel sheet piles, Richlea sprayed a sacrificial layer of foam onto the inner surface before the pour.  After the concrete had cured, the building's own 50-tonne overhead travelling crane was used to extract the piles.
Work started on the project in October 2013 and was completed in April 2014. Groundforce was on site for six weeks.
Got a story? Email news@theconstructionindex.co.uk