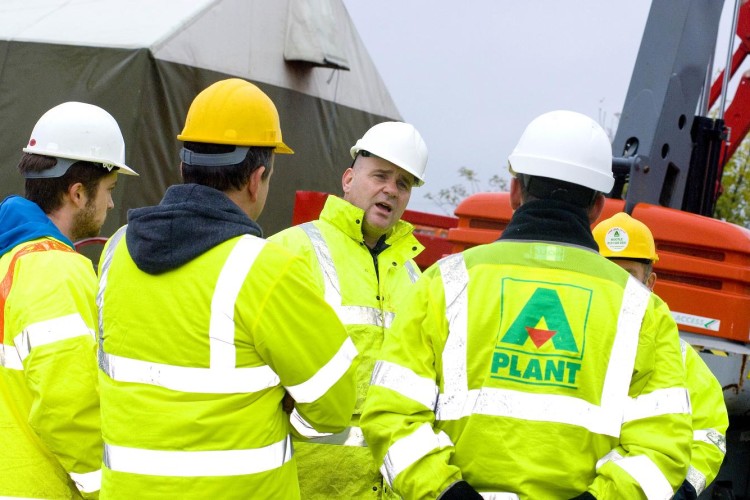 With a strong emphasis on A-Plant's work and initiatives surrounding the company's product and service innovations, industry professionals and key decision makers from A-Plant's customer base came together to voice their opinions, concerns and ideas on key H&S topics as well as experience hands on taster sessions and demonstrations on the latest safety products to hit the industry. Held every quarter at either A-Plant or supplier premises, the EHS Customer Forums are an excellent portal to share knowledge and expertise.
The December forum was held at the A-Plant Service Centre at Olway Works in Leeds and the day was focused around innovation and the initiatives that A-Plant is currently investing in for its extensive customer base. A-Plant's main aim for the day was to ensure that the attendees fully understood that their needs and requirements were and always are Number 1 on A-Plant's corporate agenda. Customers including Health and Safety professionals from Ringway, Balfour Beatty and Freedom Group, attended the event which was hosted by Douglas McLuckie, A-Plant's Director for EHS and Performance Standards.
The December EHS Forum focused on the following areas:
A-Plant's Customer Training offering
A-Plant's IT Solutions packages
Reactec - HAV Focus
Auto Tool Hire Unit - an unmanned, fully automated cabin which provides instant access to tools and other equipment and has recently been awarded the Innovative Product Award for the revolutionary Auto Tool Hire Unit at the Institute of Water Innovation Awards 2010.
Each subject area involved a comprehensive discussion on how the industry and A-Plant's customers will benefit from the offering available.  Customers were also invited to tour the award winning Auto Tool Hire Unit and get to understand how this product will help to revolutionise the hire industry.
One customer commented: "I think this has been one of the most informative and interesting customer events I have been to. It is a breath of fresh air to see a company taking innovation and customer feedback so seriously, not only will this help customers but it will benefit the industry in a huge way - more companies should take example from A-Plant in their efforts."
A-Plant's corporate culture is centred around every member of the A-Plant team - from workshop and support staff to senior management and the Chief Executive's Office - ensuring that customers are at the top of their agenda, whether it be providing a hire or supporting them with advice on innovation. A-Plant hosts these forums so as to understand customers' true requirements and gain genuine feedback so that the company can act accordingly and create an enhanced service for its customers.
Substantial and continual investment in the Health and Safety market, in particular, has ensured that A-Plant is at the forefront of industry practice and certification, offering Health and Safety initiatives to the highest standards possible underpinned by the most robust and intrinsically developed quality safety and environmental (QEHS) management system. A-Plant's accreditation to ISO 9001, 14001 and OHSAS 18001 confirms the company has its customers' needs at the top of their agenda - focused on quality and commitment to providing added value.
Got a story? Email news@theconstructionindex.co.uk