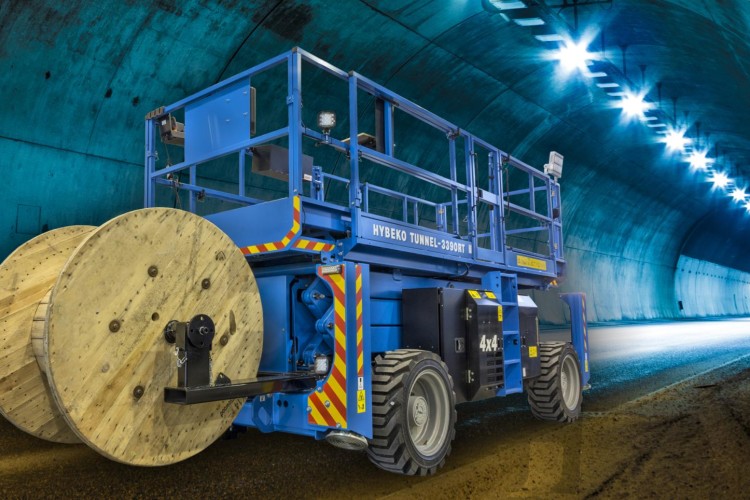 The country's convoluted coastline of fjords and high mountains pose major challenges for rail and road connections, leading to extensive construction of tunnels. With this market in mind, Hybeko chose the Genie GS-3390 RT rough terrain scissor as the basis to develop its own adapted scissor lift model. With the conditional approval of Terex AWP, this has led to the launch of the Hybeko Tunnel 3390 RT scissor lift based on the Genie model. Hybeko specialises in the production, import and sales of access and lifting equipment throughout Norway and is an authorized Genie distributor.  
The model combines minimal exhaust emissions with two modes of operation - tunnel and standard - in a single unit.

Hybeko explained that the machine is diesel-powered as recharging batteries is a slow process and recharging in tunnels is not authorised under current legislation in Norway. Secondly, speed is a key factor in tunnel applications. This is particularly the case for maintenance duties that generally need to be completed overnight; the scissor lifts have a drive speed of 8km/h.
Hybeko chief executive Espen Johannessen said: "With more tunnels opening each year, in addition to an extensive existing tunnel network that requires regular maintenance, Norway counts several huge projects that are scheduled for completion within the next 10 years. However, while market demand for access equipment is high, work in tunnels means adapting equipment to specific requirements. These include low exhaust emissions, lower working heights to avoid contact with overhead obstacles such as fans and efficiencies that help save time to work rapidly. Designed with and for our customers in Norway, our Hybeko Tunnel 3390 RT scissor lift is built to meet all the different aspects of tunnel and general construction access applications following the latest European EN 280 guidelines." 
Got a story? Email news@theconstructionindex.co.uk