Hitachi's new ZW220HYB-5 Hybrid has been designed and constructed at HCM's wheel loader factory at Ryugasaki in Japan.
The loader incorporates Hitachi group technology not only from the EH-series dump trucks but also from bullet trains.
The ZW220HYB-5's four-cylinder engine powers a generator, which produces energy to drive two electric travel motors. When the machine is rolling or braking, it continues to store electricity in a capacitor. Under acceleration, it uses energy by the generator and the capacitor, and so less revs are required when it reaches normal travel speed.
The control units are the key to the electrical power process and engine operation, HCM says. For example, when lifting and loading the engine rpms increase automatically in response to the load – and there is no need to use the accelerator pedal.
HCM claims that the hybrid system improves fuel efficiency by up to 26% compared to the previous conventional ZW220 wheel loader with no loss of performance.

HCM also claims that the lifetime cost of the hybrid wheel loader is reduced because less maintenance is required for the generator, travel motors and service brakes. Safety has also been enhanced by the auto-braking system that enables the machine to travel downhill at a constant speed, it says.
Noise is also reduced – by 5dB(A) in the cab and by 2dB(A) outside, says HCM.
"HCM is constantly focused on enhanced customer satisfaction by developing the latest advanced technology," said Hitachi Construction Machinery (Europe) NV's wheel loader product specialist, Vasilis Drougkas. "Customers demand a high level of performance, reduced fuel consumption and a low cost of ownership – this is the challenge for the future development of Hitachi wheel loaders."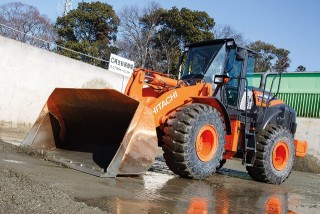 Got a story? Email news@theconstructionindex.co.uk