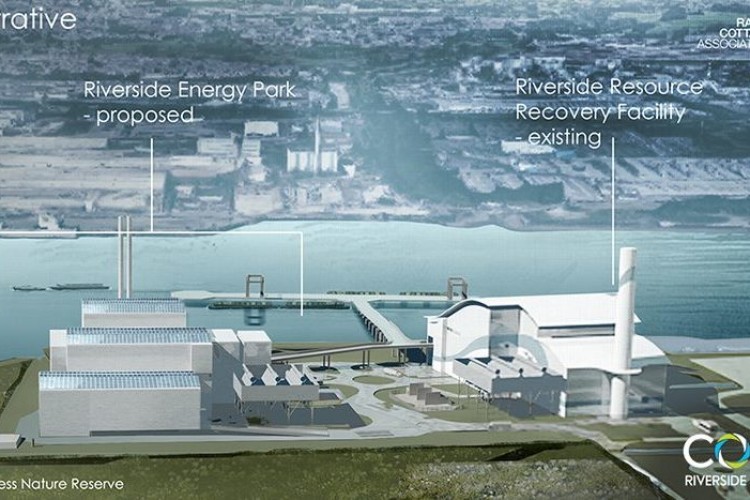 Cory hopes to start construction in 2021 on an integrated, low-carbon energy park at its site on the south side of the Thames in Belvedere, in the borough of Bexley.
Riverside Energy Park would complement Cory's existing Riverside Energy Recovery Facility (ERF), and comprise a range of technologies including waste energy recovery, anaerobic digestion, solar panels, and battery storage.
Riverside Energy Park would enable the company to convert even more of London's residual 'black bin' waste into electricity, particularly during times of peak usage, and produce cheap heat. In addition, it would continue to convert the residual ash that is left over at the end of the process into construction materials.  It expects to create a further 175,000 tonnes per year of construction materials.
Cory has advised the Planning Inspectorate of its proposals and will submit development consent order after working up the scheme through public consultation.
With a construction start date pencilled in for 2021, the Energy Park is expected to be fully operational by 2024. Cory has selected Hitachi Zosen Inova as its engineering, procurement and construction (EPC) contractor, following its delivery of the existing Riverside ERF.

Cory forecasts that the Riverside Energy Park would generate up to 96 MW of electricity at peak times, which taken together with the permitted capacity of 72 MW from the existing Riverside ERF is the equivalent of powering 300,000 homes across London, or almost 10% of London's 3.2 million households. It would also divert a further 650,000 tonnes of residual waste away from landfill.
Cory Riverside Energy chief executive Nicholas Pollard, the former Balfour Beatty boss, said: "The new energy park represents a huge step forward when it comes to meeting London's waste management and energy generation needs. Our current Riverside Energy Recovery Facility has been reliably operating at capacity and within all air pollution limits since day one, so expanding our energy generating capabilities in a more ambitious integrated Energy Park is the natural next step.
"London is facing a significant capacity gap in its ability to appropriately dispose of and treat all its waste. This new park is an important part of the solution.
"By employing a range of technologies which are proven at scale, we can expand our ability to generate clean, low carbon renewable energy for London and treat more of London's waste within the city's boundaries."
Got a story? Email news@theconstructionindex.co.uk