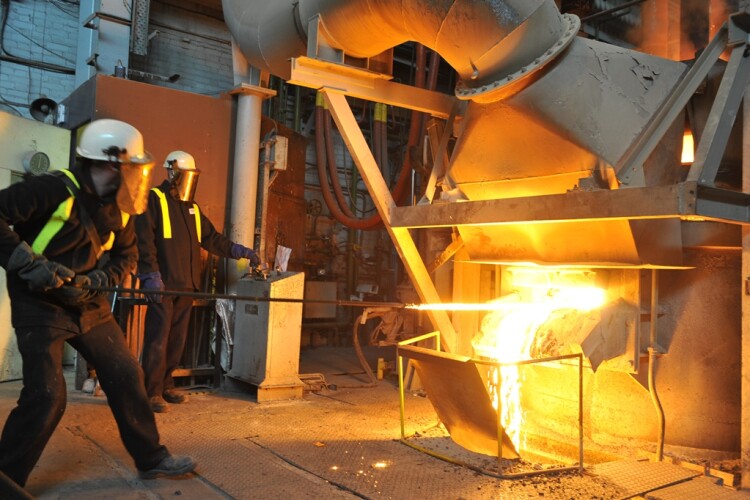 Cement 2 Zero (C2Z), a UK-based demonstrator project to trial zero-emission cement on an industrial scale, has conducted concept-proving pilot melts and is now moving to the next stage.
There are already products on the market that claim to be 'net zero' if you plant enough trees; this is aiming for literally 'zero' carbon.
The project is backed by £6.5m of UK Research & Innovation government funding as part of the Transforming Foundation Industries Challenge. It hopes to promote the decarbonisation of cement and steel.
The first phase of trial melts has been carried out by the Materials Processing Institute in Middlesbrough, initially in a 250kg induction furnace, before being scaled up to six tonnes in an electric arc furnace (EAF). Once the process has been trialled and refined, industrial scale melts will follow in Celsa Steel's EAF in Cardiff.
The two-year industrial trial will test each stage of the production process, bringing together the Materials Processing Institute, the University of Cambridge and industry partners – Atkins, Balfour Beatty, Celsa, Day Aggregates and Tarmac. Eventually the zero carbon cement – known as Cambridge Electric Cement – will be used in a real UK construction project. 
The development of Cambridge Electric Cement came from three researchers at the University of Cambridge – Cyrille Dunant, Julian Allwood and Philippa Horton – inventing a process that converts construction and demolition waste to cement over molten steel, using an electric arc furnace (EAF), which is used to recycle scrap steel.
The Cement 2 Zero project aims to demonstrate that concrete can be recycled to create a slag forming addition that could, when cooled rapidly, replace Portland cement.  
Dr Dunant discovered that the chemical composition of used cement is virtually identical to that of the lime-flux used in the conventional EAF steel recycling process. 

Traditional Portland clinker, one of the main ingredients in cement, is produced by firing limestone and other minerals in a kiln at extremely high temperatures (1,450 degrees Celsius), a process that accounts for more than 50% of the cement sectors' emissions.
By contrast, Cement 2 Zero will use recycled cement as the flux in the electric steel recycling process (EAF powered by renewables), the by-product of which, when cooled and ground, produces Portland cement clinker, which is then blended to make 'zero-emissions' cement. 
Therefore, it is suggested, this cement product (CEC) could be made in a virtuous recycling loop that not only eliminates the significant emissions of cement and steel production but also saves raw materials.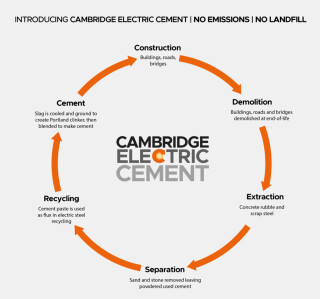 Julian Allwood explained: "By combining steel and cement recycling in a single process powered by renewable electricity, we could supplement the global supply of the basic construction materials to support the infrastructure of a zero emissions world and to enable economic development where it is most needed."
Chris McDonald, chief executive of the Materials Processing Institute, said: "Cement 2 Zero has the potential to make a significant contribution to achieving a zero-carbon society, secure and increase jobs in the UK cement and steel sectors and challenge conventional production processes, creating high-value materials from demolition waste."
Philippa Horton of the University of Cambridge, who created the project consortium, said: "If Cambridge Electric Cement lives up to the promise it has shown in early laboratory trials, when combined with other innovative technologies, it could be a pivotal point in the journey to a zero-emissions society. The Cement 2 Zero project is an invaluable opportunity to collaborate across the entire construction supply chain, to expand CEC from the laboratory to its first commercial application."
Got a story? Email news@theconstructionindex.co.uk