ISG will remodel the inside to make the office a more up-to-date open-plan working environment for council staff. But to create a modern working environment, ISG will revive many of the past glories of the building that have been hidden away for years. Original Victorian features will be revealed for the first time since they were covered up during by modifications in the 1970s.
Remodelling the Town Hall is part of a council plan to cut costs by reducing the number of offices it uses and getting staff to 'hot desk' and work from home more. The council calls this its 'agile working strategy'.
Restoration of existing historic features will include the removal of false ceilings to reveal ornate cornices, conservation of parquet flooring and elm floorboards and sensitive removal of plaster finishes on the walls to expose decorative Victorian tiling and brickwork. ISG will create a new reception area on the ground floor (pictured below), where original stained glass windows will also be revealed.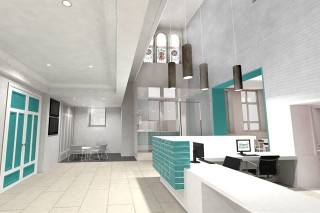 Outside, there will be repairs to the roof, chimneys and windows, working with English Heritage to ensure that all restoration elements are carried out in compliance with listed building requirements.
Some new mechanical and electrical services will be installed, but to keep costs down existing boilers and radiators will be re-used, but with new pipework. Some existing furniture will also be re-used.
The project was procured via the North West Construction Hub (NWCH) framework. Work on the building is scheduled to start in November.
Andy Mallice, ISG's Northern regional managing director, said: "This challenging project will help to restore and safeguard the future for this iconic regional building. The scheme is an exciting blend of traditional building conservation and contemporary office planning, with a state-of-the-art service installation and a focus on reducing overall running costs and delivering a building that better serves the local community."
Got a story? Email news@theconstructionindex.co.uk