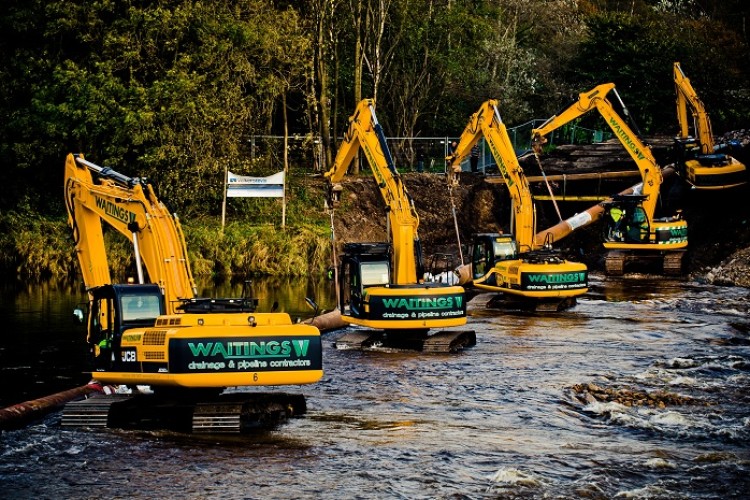 Cumbria-based drainage and pipeline specialist, Waitings had just 24 hours to lay the pipeline during low tide on the River Lune in Lancaster.
Waitings undertook this work on the United Utilities project on behalf of main contractor VolkerStevin.
It involved the installation of a new sewer pipeline two metres beneath the river bed as part of a project to enhance the city's sewer network both north and south of the river.
The upgraded network will provide a more effective system by capturing a larger volume of water during storm conditions. The result will be fewer overflows in to the River Lune which will help meet tough EU standards on water quality. The task was subject to the strict timeframe imposed by the Environment Agency due to tidal influence and unseasonal flood risks in the region.

To achieve the river crossing aspect of the installation within the allotted 24 hour slot, Waitings employed one JS360, two JZ235 and three JS220 JCB tracked excavators along with a 3CX backhoe loader and a 22kvA JCB generator.
Constructed on the river bank, approximately 140 metres of 560mm diameter polyethylene pipeline was welded together before insertion into 130 metres of 600mm diameter welded steel piping.
After the JCB JS models had excavated a two metre trench in the riverbed, the entire 35-tonne pipe string was pressure tested and carried into the channel by the six JCB excavators which were evenly spaced across the river. The pipeline was then lowered into place, weighed down by pumping water into it and secured in place by 17 special cast five-tonne concrete blocks.
Stuart Newby, contracts manager at VolkerStevin, said: "This was a technically challenging piece of civil engineering, which had to be accomplished within a set time period and unpredictable tidal and weather windows. Complete commitment from all parties and the best machinery for the job was essential to ensure successful completion."
Got a story? Email news@theconstructionindex.co.uk