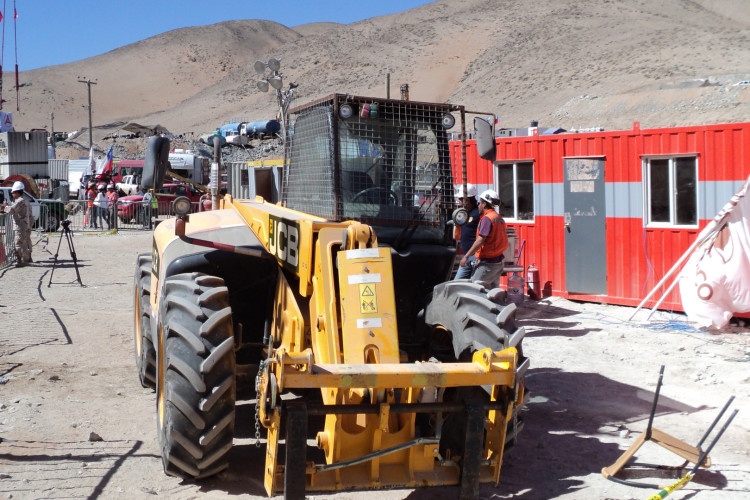 A fleet of around 10 JCB products operate at the San Jose copper and gold mine in Chile's Atacama desert, where 33 miners were trapped more than 2,000 feet underground for 69 days when part of the pit collapsed on 5 August.
In the minutes leading up to the successful rescue mission which started last Tuesday, a JCB 531-70 Loadall telescopic handler - made at the company's World HQ in Rocester - arrived at the rescue shaft to deliver, on a set of forks, the capsule which brought the miners back to safety.
Another JCB Loadall telescopic handler played an equally starring role below ground while the miners were trapped. Millions saw them using a 531-70 Loadall for a dual purpose - a method of getting around the mine and for sleeping in.
Carlos Hernández, JCB's Regional Director for Latin America & Caribbean, said: "There's obviously huge relief throughout Chile and the rest of world that all the miners were brought out safely after such a long ordeal.

"JCB's products were used on a daily basis for a variety of tasks at the mine and we are delighted they played a very small role in what was one of the most amazing rescue stories of our time."
The mine also uses JCB 436 and 456 wheeled loading shovel models made in Cheadle, a JCB 533-105 Loadall telescopic handler, a JCB JS200 tracked excavator made in Uttoxeter, a JCB 3C backhoe made in Brazil and a JCB VM115 roller made by JCB in Germany. The machines belong to JCB customers Pedro del Real and Zublin and were supplied by JCB's Chilean dealer Derco.
Got a story? Email news@theconstructionindex.co.uk