The 1.9 tonne mini excavator has an electric motor and three advanced lithium-ion battery packs, to deliver a full energy capacity of 15kWh. This makes it not only emissions-free but also quiet.
A retractable undercarriage enables it to negotiate tight spaces, adding to its usefulness indoors.
The JCB 19C-1 E-Tec is charged by plugging it into a standard 230 volt domestic electricity supply. Once fully charged, it is ready to put in a full shift on site, delivering the same speed and power as its diesel counterpart. 
By the time the machine goes on sale at the end of the year, it is expected that "super-fast charging" will also be available, halving the charging time.
The E-Tec digger has been developed at the company's Staffordshire HQ. Chairman Lord Bamford described it as a "real breakthrough" for the construction sector.
Lord Bamford said: "JCB has been at the forefront of developing innovative, low emission diesel powered construction equipment for decades. In fact, thanks to our clean diesel technology, typical JCB machines will be pretty close to zero emissions by next year.
 "However with urbanisation, machines are operating more closely to people as well as digging underground, indoors, near hospitals and in food production environments. As a result, there is a new zero emissions sector emerging and it's emerging very quickly. It's for this reason we have put ourselves at the forefront of alternative power technologies and developed the first ever electric JCB digger."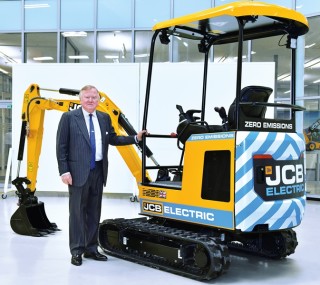 Got a story? Email news@theconstructionindex.co.uk