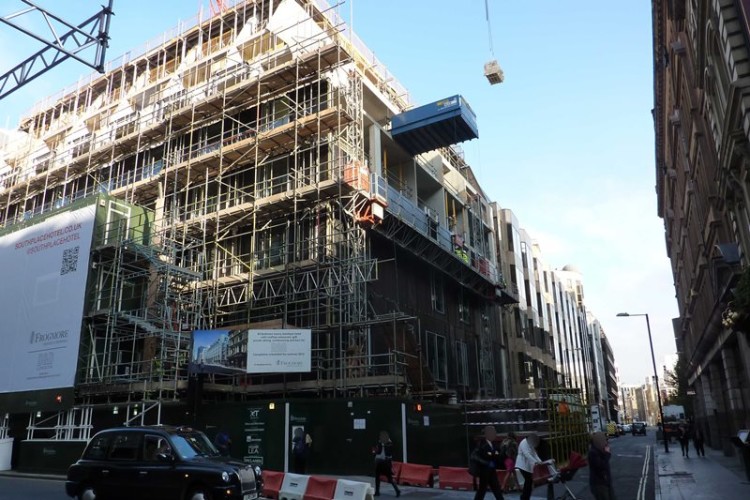 The 32kg beam hit a 38-year-old building worker who was on an access platform below. This man, a self-employed subcontractor, broke six ribs and fractured three vertebrae, and was off work for two months.
The incident happened on 5th October 2011 during construction of the seven-storey South Place Hotel in Wilson Street, London EC2.
McLaren Construction Ltd of Brentwood, Essex, was the principal contractor and John Doyle Construction Ltd, of Welwyn Garden City, which is now in liquidation, was a subcontractor.
The Health & Safety Executive (HSE) prosecuted both companies for safety breaches and both were sentenced at Southwark Crown Court yesterday (10th December).
The court was told that several John Doyle workers were dismantling a temporary structural framework on the sixth floor of the building when they lost control of the six-metre beam. It fell down the side of the building and – after hitting the co-worker – landed in Wilson Street, a busy public highway on one side of the site.
HSE found that John Doyle Construction had failed to identify and implement reasonable control measures that should have been in place to prevent any beam from falling in that way. McLaren Construction had approved its subcontractor's method statement and failed to notice the lack of controls.
In addition, neither company took any steps to make sure that no one was working below the areas where the framework structure was being dismantled.

McLaren Construction Ltd, of Kings Road, Brentwood, Essex, was fined £22,500 with £14,854 in costs.
John Doyle Construction Ltd, registered with administrators at Temple Quay, Bristol, was fined a nominal £1. However, the court indicated that had the firm not been in liquidation, a £50,000 fine would have been imposed.
After the hearing, HSE inspector Eileen Gascoigne said: "What happened at the building site that day had the potential to kill one or more workers and members of the public passing close by. It was entirely good fortune that the consequences were not even graver.
"The incident was entirely preventable. The risks were foreseeable and the measures that needed to be in place are well-known in the industry and were readily implemented afterwards.
"As an experienced principal contractor, McLaren failed to properly check the controls that John Doyle proposed for the work, and failed to implement their own procedures for ensuring there was no risk to either other contractors, or members of the public, from the work taking place.
"John Doyle was also an experienced contractor and yet it too failed on an important safety issue."  
Got a story? Email news@theconstructionindex.co.uk