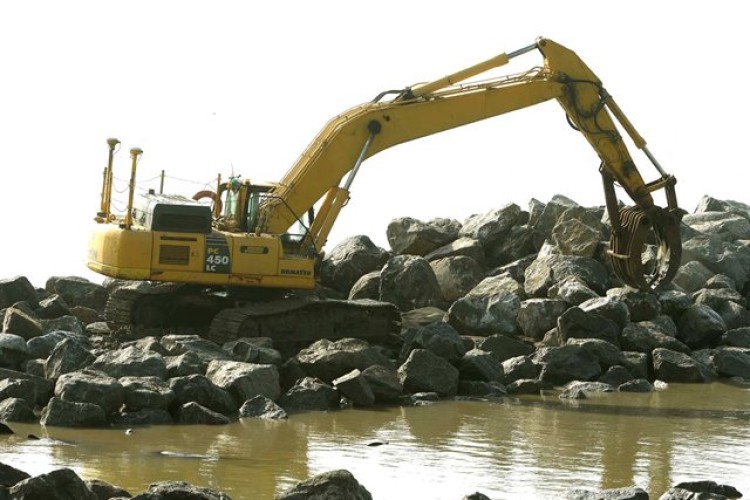 The Ruthin-based civil engineering contractor has begun a £2.2m contract to construct 23 rock groynes for the Clacton to Holland-on-Sea Coast Protection Scheme.
 Jones Bros is operating as a subcontractor to principle contractor for the works, VBA Joint Venture. Tendring District Council is the client and contracting authority, with Essex County Council and the Environment Agency operating as funding partners. Mott MacDonald is the coastal protection scheme's project manager.
The £36m coastal protection scheme requires 300,000 tonnes of rock to construct the groynes and will protect more than 3,000 properties from sea erosion. Jones Bros' work is scheduled to take until autumn 2015.
Jones Bros is using three 45-tonne excavators, three 35-tonne excavators, and three 40-tonne articulated dump trucks to carry out the work.
Jones Bros is using GPS technology and working around local tidal tables. Plant used to move rock for the new groynes into place has been equipped with Trimble GCS900 grade control systems.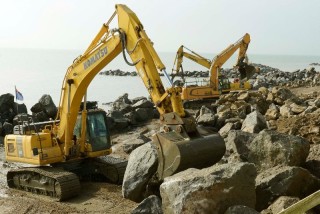 The GPS system, which allows control of buckets and blades to within 20mm, allows Jones Bros' plant operatives to accurately install the rock groynes in water up to 150cm in depth.
Jones Bros' regional manager Geraint Thomas said: "We have to use GPS enabled machines in order to excavate the rock toe detail and place rock armour to line and level under water.
"We also have a specially made geotextile rig for placing geotextile below and above water on top of the core.
"There are about 15 workers on the project every day, working six hours on and six hours off around the tides – three hours before low tide and three hours after high tide."
Got a story? Email news@theconstructionindex.co.uk