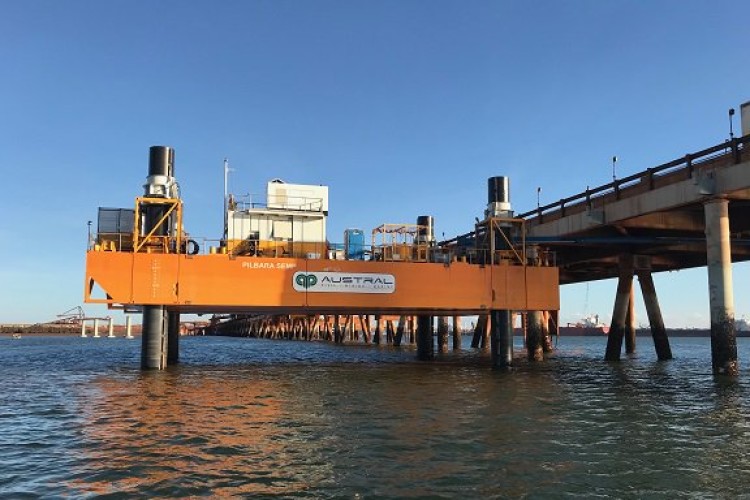 Austral Construction aims to use the barge to help secure major new projects and open up a marine construction and maintenance market worth around AU$330m in the medium term.
The company said that projects for new and upgraded port facilities are becoming increasingly prevalent as ships grow larger and mining production expands in Western Australia. In recognition of the opportunities ahead, Austral has made the investment in the new modular barge.
The heavy-duty, self-elevating modular platform (SEMP) is the largest of its kind in Australia. It has a deck surface of just over 500m2 and a deck-crane capacity of 300t. A key feature is that its four 42m legs allow it to work in depths of up to 30m – Austral's other jack-up barge has just an 80-tonne capacity and can only operate in water up to 20m deep.
Piling superintendent Mark Johnson said: "The investment in this barge shows our commitment to our clients and to providing innovative, safe and efficient equipment for our people and the projects they work on. "This platform gives us a clear competitive advantage and will move us into a larger market, allowing us to complete jobs that require larger cranes and foundation equipment."

The barge, which has been manufactured by Ravestein in the Netherlands, is already scheduled for several projects, including a fuel-wharf upgrade in Dampier, the Ell Layby wharf upgrade and a channel markers project for the Pilbara Port Authority (PPA).
"Simply put, these projects can't be completed effectively without this new barge," added Johnson. "In fact, the PPA has specified that a fixed-platform barge must be used to mitigate programme and delay risks."
The barge will be used on a wide range of projects, including piling and drilling; wharf, jetty and bridge construction; and marine structural installations and maintenance. And although it will be based in Dampier, Johnson said that there are opportunities for the wider Keller Group.
"One of the advantages is that although the barge is very large, it's also modular," he said. "That makes it fairly easy to transport over sea or land, which means we can use it nationally and internationally throughout Keller. "This is a key strategic investment for Austral at an exciting time in our history. We look forward to marketing it widely to our clients and opening up many opportunities."
Got a story? Email news@theconstructionindex.co.uk