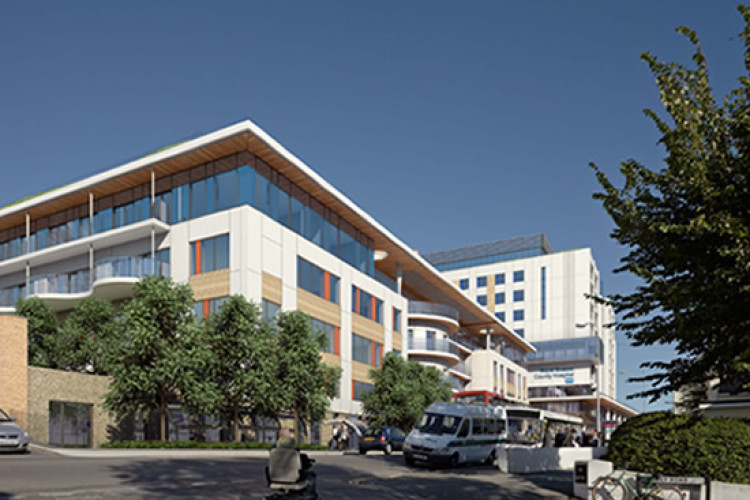 The hospital is being redeveloped to allow for specialist tertiary, trauma and teaching facilities (3Ts) to be offered in the region. This preparatory phase, due to complete in autumn 2015, will enable clinical services to decant to the buildings once full business case approval is granted for the wider redevelopment.
Laing O'Rourke has been on board as main contractor since 2009 but is only now starting to actually build something. It is constructing two temporary buildings: the first is a six-storey building to house services including nuclear medicine, physiotherapy outpatients and rheumatology outpatients; the second will accommodate three wards currently located in the build area of the main redevelopment.
During the construction of the temporary structure, Laing O'Rourke, along with architects BDP, is working with the Brighton & Sussex University Hospitals NHS Trust to develop designs for the main building ahead of an expected construction start time in early 2016.  Designs for the main building have drawn heavily on Laing O'Rourke's Design for Manufacture & Assembly (DfMA) division, as well as digital engineering through building information modelling, with offsite assembly techniques supporting the planning application.


Duane Passman, director of the 3Ts Redevelopment, said: "We are now moving into the clinical phase of our decant programme. This is when the redevelopment becomes real for most people, with the beginning of construction on site. We are pleased to be working with Laing O'Rourke on both these temporary buildings which are key to unlocking the space we need for the redevelopment to go ahead. This is an exciting time. What starts as the foundations for a temporary building today will end with patients being treated in brand new, permanent facilities of the highest quality."
Laing O'Rourke project Director Steve Lloyd said: "Our team has worked very closely with the trust and the design team in the development of the 3Ts project, so it is fantastic to see the first signs of construction that will enable this important redevelopment to move forward.  These high quality temporary structures will be imperative to allowing the Royal Sussex County Hospital to continue servicing the local community during the redevelopment period.  We look forward to finalising the designs for the main building over the coming months as the redevelopment progresses to full business case stage"
The works at the Royal Sussex County hospital site will be fully financed from public funds and as part of the Department of Health's capital investment budget.
Got a story? Email news@theconstructionindex.co.uk