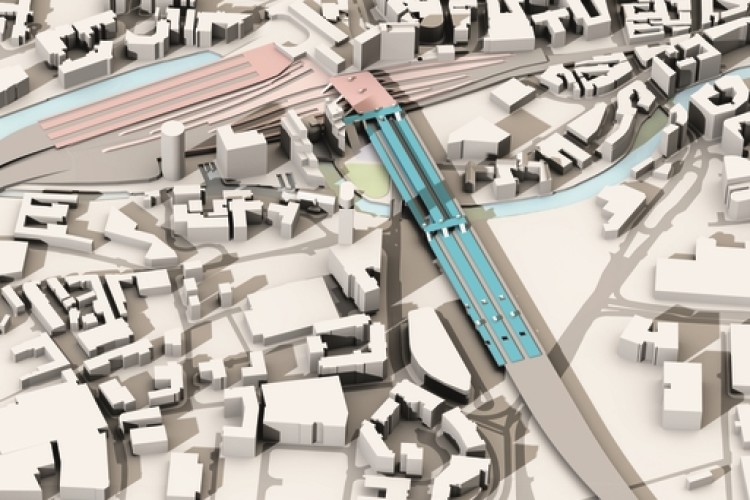 The preferred route of the second phase of the national high-speed rail project was released yesterday by the Department for Transport and HS2 Ltd, showing how the new line will come into Leeds. The announcement also confirms the revised plans released last year for Leeds station to be remodelled into an integrated 'Yorkshire Hub' to accommodate HS2 alongside regional and local services.
Leeds City Council leader Judith Blake said: "This is very welcome news not only to provide further confidence that HS2 will be completed in its entirety but also to offer certainty in that everyone can now know exactly where and how it will come into Leeds. That is hugely important as now planning at all levels can be carried out in an informed way around HS2, what it means and where it will go.
"This announcement also confirms the remodelling of Leeds station as a single integrated transport hub, which is very pleasing as it is a key element of the South Bank Leeds development which aims to provide more than 35,000 jobs, over 4,000 homes and educational facilities for over 10,000 students."
Leeds Station is already reckoned to be the busiest station in the north of England, used by more than 100,000 passengers a day, with those numbers forecast to more than double over the next 30 years.
The ambition set out by Leeds City Council and partners is for Leeds station to become a key interchange for HS2 and Northern Powerhouse Rail (formerly known as HS3). It is central to plans for regeneration of the South Bank area of the city, which would effectively double the size of Leeds city centre.

The original proposed line of route for HS2 into Leeds had caused concerns locally, especially in terms of the impact it would have on areas such as Woodlesford and also how the services would arrive into the city centre.
Leeds City Council and others pressed for alternative solutions, resulting in a revised option to reduce the impact at Woodlesford and the confirmation of the integrated Leeds Station.
Councillor Judith Blake added: "We know local people and businesses directly impacted by the line of route will be concerned but we are pleased that our comments to Sir David Higgins and HS2 Ltd have resulted in a new plan for Woodlesford and for Leeds Station. We will continue to call for the impact on those on the route to be minimised as much as possible, and also for work on our part of HS2 to be carried out earlier so our region can start to benefit sooner than planned. HS2 offers transformational opportunities for the local, regional and national economy, while improving onward services to Scotland is also important to offer better connectivity and shorter journey times."
Leeds City Council has also released an interim growth strategy to show how high-speed rail will benefit the wider Leeds region, maximising the growth opportunities provided by HS2.
Got a story? Email news@theconstructionindex.co.uk