When the clocks go back and daylight hours get shorter, plant and tool hire companies inevitably start to see a rise in calls from contractors in need of temporary lighting towers. Tower lights may not be the most exciting items of plant on a construction site, but they are surely one of the most essential for work to get done safely. 
And while they represent a cost that cannot be avoided, there are substantial savings to be made by embracing state-of-the-art products.
In the first instance, this means replacing metal halide lamps with low-energy LED lamps.
There may also be benefits in moving from diesel generator-powered units to solar power.
The move from metal halide to LED has been the big step-change in tower lights in recent years, reports Richard Denholm, sales director of Morris Site Machinery, which has been making the SMC brand of tower lights since its acquisition of Sandhurst Manufacturing in 2010.
Whereas SMC's sales were roughly 50/50 metal halide/LED, the balance has shifted massively towards LED; 75% of 2017 sales have been LED types, says Denholm.
LED tower lights have been on the market for four or five years, he says, but only now have economies of scale brought the price down 15% to match traditional metal halide lamps.
Market uptake was initially slow, partly due to cost and partly due to uncertainty about the effectiveness of LED lights. However, any such reservations among the hire companies are melting away; LED lamps last longer and need less energy. 
The SMC spec sheets show its TL90 lighting tower drinking 1.53 litres of diesel per hour when fitted with four 1,000W metal halide lamps, 0.98 litres per hour with four 400W metal halide lamps but just 0.65 litres when fitted with four equally-effective 300W LED lamps, providing up to 177 hours of operation between refuelling.
Others make similar claims: Atlas Copco LED light towers consume just 0.5 litres per hour, run for 260 hours and cover a 5,000m2 area with a luminosity of 20 lux.
Denholm says that LED lamps are also more durable than their metal halide equivalents which sometimes fail to survive the journey to site if they have been bouncing around in the back of a truck.
Ignacio Picatoste, spokesman for light towers at Chicago Pneumatic, says that metal halide may still be the most economic option for short-term, use on small sites. "However, if a larger space needs to be illuminated or an area requires illumination for a longer period of time it's advised to consider LED technology," he says. "LED light towers only require 1,400W of power to illuminate an area of up to 5,000m2, while a metal halide light tower requires approximately 4,000W to light up only 4,000m2."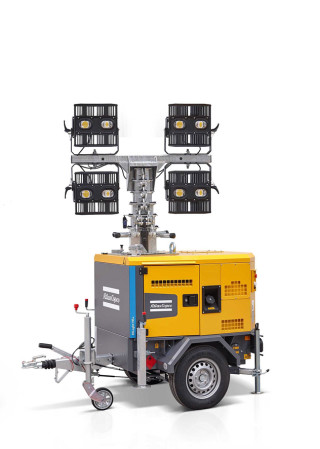 Among the plant hire companies moving to LED is GAP, which bought 400 of Trime's X-Eco lighting towers for its hire fleet in 2016 and has added another load more this year. The LED lamps are also guaranteed for 50,000 hours, so are unlikely ever to need replacing.
GAP head of procurement Ken Stewart admits: "We were initially apprehensive about the cost impact of LED replacing the traditional metal halide but we now believe that LED has become the industry norm, with pricing now much more attractive." 
The key benefits of LED when compared to metal halide are: 
• instant non-flickering light is produced whereas metal halide lights take time to warm up (sometimes up to 20 minutes) and emit a significant amount of heat; 
• LED lights last longer and have relatively low lifetime costs; 
• lower maintenance costs – no replacement bulbs/lamp glass/ballasts/capacitors, resulting in less down time for customers and reduced frequency of service call-outs. 
Trime is a new name in this market, emerging in the wake of Generac's 2013 acquisition of Italian firm Towerlight. Trime UK is headed by Paul Hay and Ray Caulfield, both of whom were previously with Towerlight, and is making its presence felt in the UK.
Hire Station, part of the Vp Group, has also invested heavily in Trime X-Eco LED lighting towers. "At first we were a little cautious about entering the LED lighting tower market, and wanted to determine how receptive our clients were to the LED units that were available," says procurement manager Paul Smith. 
"To meet demand, we opted to re-hire conventional metal halide lighting sets until LED units had evolved sufficiently to provide a satisfactory and futureproof solution." 
He adds: "The growing utilisation in this sector and the development in LED technology have given us the confidence to invest further in this area. Although Trime are a relatively new company in the UK, it is obvious that the team are highly experienced in this market which has helped give us the confidence to select them as our preferred supplier of this product group." 
It's not just the hire companies that are buying LED towers. Civil engineering contractor BAM Nuttall has bought a batch of 20 X-Eco towers this autumn after a six-week trial on its M5 Oldbury repair project in the Midlands.
Like many major contractors BAM is committed to reducing its carbon emissions and has set itself challenging targets.
According to Trime's calculations, BAM Nuttall will be able to report a reduction in CO2 output of around 888kg a month because of its switch to LED lighting towers (assuming all are in action), while also saving itself £336 a month in fuel.
"Trime have succeeded in combining an evidently reliable and robust machine with sustainable features and fuel-saving capabilities," says BAM Nuttall plant manager Andy Haythorne. "This is our first venture into LED lighting for our sites and we needed a set that helps to maintain our strong commitment to becoming a more sustainable and responsible business."

There are other ways to save fuel and cut emissions too, without necessarily moving to LEDs. Towerlight's VB9, for example, uses some clever electronics to squeeze more juice from the engine. This means that it can run off a smaller engine than other similar-sized lighting towers without compromising lighting output, saving up to £336 per month in fuel costs. The 170-litre-capacity fuel tank has a running time between refuelling of 340 hours, so it only needs refuelling once a month rather than once a week. Carbon output has been calculated at just 0.7kg/hour.
Rail plant supplier Torrent Trackside uses Ecolite-TH2 hydrogen fuel cell lighting towers and is working with the manufacturer, Taylor Construction Plant (TCP), to promote the Ecolite zero-emissions product range to the rail industry as a way of reducing carbon emissions. Costain has already been using the Ecolite-TH2 lighting tower for more than 18 months on its rail projects.
The Ecolite fuel cell product range is powered by BOC's Hymera fuel cell and operates as a battery hybrid. With no internal combustion engine or harmful emissions, the lighting towers can be used in enclosed spaces.
The BOC Hymera fuel cell produces energy by combining hydrogen with oxygen from the atmosphere to produce electricity and water. There are no carbon or particulate emissions as would be the case with a conventional diesel-powered generator. In addition, the process is virtually silent.
Torrent Trackside regional operations manager Leigh Miller says: "As soon as we looked at the light and the ingenuity of it, we realised just how fantastic this product was…We have had nothing but positive feedback from our customer base throughout the UK and fantastic support and team-work with TCP."
Solar power is an established sustainable and emissions-free alternative to diesel engines that has been available for lighting towers for at least five years. Uptake, however, has so far been slow – simply because many have found the performance to be less than stellar. They are great for providing night lights at summer festivals, but not so perfect on grey winter days when the sun never comes out.
GAP's Ken Stewart probably speaks for many when he says: "There still exists a significant price differential between solar- powered and conventional lighting and I don't see this differential being reduced. I also believe battery technology has to be improved both technically and commercially – they're still too large and too heavy. Customer acceptance to date has been patchy and we as an industry have an issue in commanding the appropriate hire rate for this technology."
He adds: "Space constraints, especially with inner city locations, could also be an issue when the solar panels are fully extended on the lighting tower. Finally we have the good old UK weather where reduced daylight hours – both seasonally and geographically – impact the performance and productivity of solar powered lighting towers." 
Morris Site Machinery introduced a solar-powered lighting tower as long ago as 2011 but on days with 16 hours of darkness it recommends a small generator in support. For applications where noise is an issue, or for contractors keen to be carbon-neutral, solar power ticks a box and so interest is finally on the rise, says Richard Denholm. "We've got more quotes out this year," he says.
Garic, best known as a supplier of temporary site accommodation, is a solar-enthusiast. Having developed solar-powered welfare units, it is keen to move to solar- powered lighting too and currently has a hire fleet of approximately 100 lighting towers.
"Eighteen months ago we tested four or five solar powered lights," says managing director Colin Hotchkiss, "and found there was no solar solution with a 100% guarantee to be light all the time." They were good but not good enough.
At that time Garic compromised, as many others have done, and opted for hybrid units, combining solar panels and a two-cylinder diesel engine. But Hotchkiss is not yet entirely satisfied. "We have a solar solution for our cabins and we are actively trying to identify a pure solar solution for lights," he says.
Garic is therefore conducting tests this winter on as many new models that have recently come to market as possible with a view to being able to offer the best-performing models to customers next winter.
It is against this background that a new name has entered the market and seems to be making an impact with its solar lighting towers. Prolectric introduced the first permanent solar-only street lights to the UK market in 2011 and now has thousands of units installed around the country. In 2016 directors Chris Williams and Tim Brooks decided to develop a low-cost temporary solar light as an alternative to diesel. 
The Somerset-based duo claims to have produced "the only mobile solar lighting tower in the UK that operates reliably all year round, even in challenging winter conditions". 
Managing director Chris Williams says: "Diesel tower lights are ubiquitous on infrastructure projects and construction sites. We estimate there could be 12,000 in use annually in the UK. However, not only do diesel generators have a carbon impact, they are costly to fuel and need regular manpower for refuelling and servicing.
"We believe the technology could also have national significance. If 20% of the estimated fleet of 12,000 diesel lights used in the UK were replaced by solar lighting, an annual saving of 15,000 tonnes of CO2 could be achieved or, if all the diesel lights in the UK were replaced, around 75,000 tonnes of CO2 could be saved."
Solar lighting is completely silent, clean and can be left to run for months without the need for any human intervention on-site, says Williams. "We applied our experience in solar street lighting to develop a trailer light with a 1,320W capacity – three times that of any other solar light previously available. We incorporated intelligent technology so the unit's on and off times could be controlled automatically off-site, as well as providing data on charging, power usage and carbon savings.
"We spent more than 12 months developing and testing a light that can operate reliably all year round, even in challenging winter conditions – something we believe no other manufacturer has achieved."
The Prolectric ProLight has four LED lights which are capable of 550m2 coverage at a minimum Lux level of 20 and 10,000 to 40,000 lumens output, giving it three times the capacity of any other temporary solar tower lights on the market, the manufacturer claims.
This year has seen Prolectric ProLight solar trailers being trialled by contractors on Hinkley Point, the M1, the A14 and Battersea Power Station. Costain, Carillion Rail, Kier, BAM and Balfour Beatty are among companies that have been trying it. During September a total of 68 Prolights were either hired or purchased.
Speedy Hire has also put it in its catalogue, claiming that the ProLight has already "revolutionised the construction site lighting market".
One of the first contractors to trial the technology was Skanska, whose environmental manager Richard Cattan says: "We normally use diesel-powered lighting towers or occasionally battery hybrid versions. We decided to trial the solar technology as an alternative, to see if it can help us improve our environmental performance, not only to reduce carbon emissions, but also to do what we can for air quality improvements.
"This is the first time I've used solar lights. I was interested because of the 'plug and play' operation of the technology. With no emissions, the ProLight offers clear environmental advantages both in terms of carbon reduction and improved air quality."
He clearly approves: "I will be recommending that Skanska use the ProLights again; their potential to help us address concerns about air quality is particularly important. I have also recommended Prolectric to other Skanska colleagues on other projects in the UK."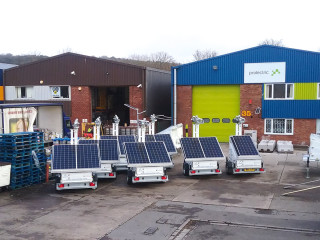 This article was first published in the November 2017 issue of The Construction Index magazine, which you can read for free at epublishing.theconstructionindex.co.uk/magazine/november2017/ 
UK readers can have their own copy of the magazine, in real paper, posted through their letterbox each month by taking out an annual subscription for just £50 a year. See www.theconstructionindex.co.uk/magazine for details.
Got a story? Email news@theconstructionindex.co.uk