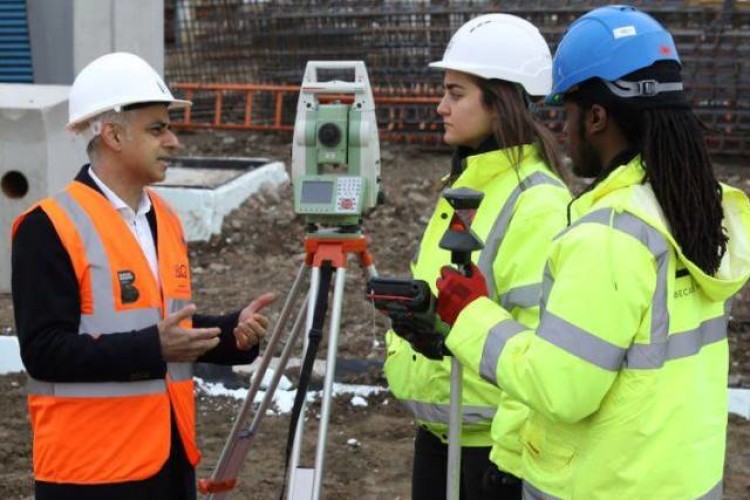 The mayor has called for more high buildings and higher density developments to maximise return on scarce available land.
The new draft London Plan, out for consultation, sweeps away the old density guidelines in a quest for greater volume. It says that councils should refuse planning permission for any proposed development that does not clearly maximise housing density.
Councils are also told to identify locations appropriate for tall buildings.
The draft London Plan also includes the Mayor's commitment for 50% of all new homes built to be categorised as affordable.
The target is to develop 65,000 homes a year – roughly double the current rate of homebuilding. For the first time, targets in the plan show how capacity can also be reached on small sites. The mayor believes there is capacity for 24,500 homes a year on London's small sites – typically those between one and 25 homes – and asks boroughs to approve applications for small developments unless they do not meet his strict design standards.
The mayor is also wants the London Plan to provide greater protection for industrial land> He is looking at innovative solutions such as stacking up distribution sheds and encouraging development of industrial workspaces alongside new housing.


Sadiq Khan said: "With London's population expected to increase by 70,000 every year, reaching 10.8 million in 2041, it's vital we properly plan for growth with new affordable homes in every area of the capital. I am using all of the powers at my disposal in my first draft London Plan to tackle the housing crisis head on – removing ineffective constraints on homebuilders so that we can make the most of precious land in the capital to build more homes in areas with the best transport links.
"My London Plan sets out how we are planning for the challenges our great city faces, but crucially focuses on my vision of a London that welcomes growth, celebrates its diversity and ensures every Londoner gets the opportunity to fulfil their potential.
Brian Berry, chief executive of the Federation of Master Builders, said: "Making better use of the many existing small sites that are scattered over the capital is essential if we are to build the number of new homes Londoners need. The London Plan's moves to favour appropriate residential development on small sites is therefore a welcome initiative. It will also boost and strengthen the capacity of small and medium-sized house builders to build more new homes.
"FMB research has consistently shown that a lack of available and viable land is the main factor constraining the ability of small builders to deliver more homes. Indeed, over half of SME house builders believe that the number of small site opportunities is, if anything, decreasing. The London Plan goes further to address this issue than the proposed changes to national policy laid out in the government's housing white paper. In order to reach the 66,000 new homes London needs to build each year, this renewed emphasis on small sites is vital."
The draft London Plan is published for consultation on 1st December 2017 and is available at: www.london.gov.uk/what-we-do/planning/london-plan/new-london-plan/download-draft-london-plan
The consultation runs until 2nd March 2018.
Got a story? Email news@theconstructionindex.co.uk