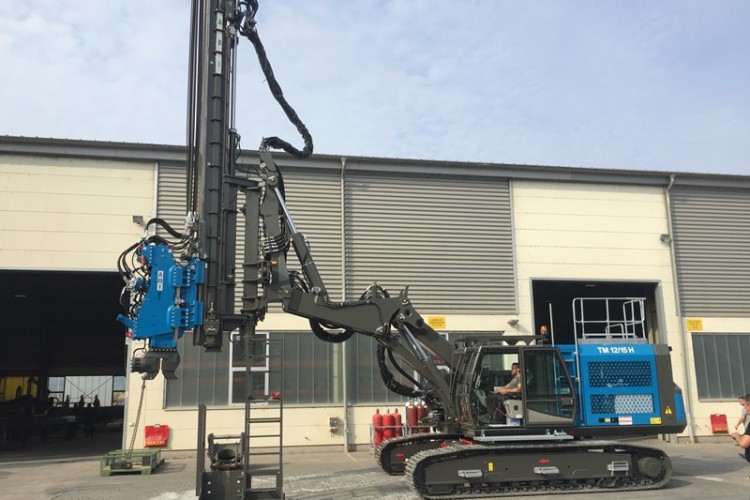 The TM 12/15 LR has been specifically commissioned by Sheet Piling (UK) as a solution to issues surrounding the widening of existing earthworks.
It has been built by ABI Group in Germany to a brief supplied by the UK contractor, which has an exclusivity deal with ABI until the end of 2019.
The vibratory sheet piling rig has a maximum horizontal reach of 8.1 metres, measured from the centre of its cab's body to the pile-driving position. This is a full three metres more than any other rig currently available in the world, the company says. 
A target application is motorway upgrade projects. Currently, the widening phase of smart motorway upgrades typically requires two weeks of enabling works and platform construction to support a rig with standard five-metre reach.  With the new TM 12/15 LR, no such preparation works are required, since its reach is long enough to be able to stand on the existing carriageway and drive the piles where required – saving time and money.
Sheet Piling calculates savings of between £40,000 and £60,000 on a project within which a typical 100-metre sheet-pile wall is being installed.

The extra reach comes with no performance compromise, the company says. The long-reach telescopic leader rig's vertical reach is 3.9 metres and it offers a maximum driven or extracted pile length of 16 metres.
 The rig also has a MRZV 20VV vibratory hammer and MDBA 4000 auger attachment.  It provides an extraction force of 175kN and a crowd force of 100kN. The weight of the extended arm is balanced by an additional three-tonne counterweight, while a heavy-duty hydraulically extendable undercarriage has a 4.2-metre overall track width, which reduces ground-bearing pressures.
Sheet Piling (UK) director Andrew Cotton said: "The long-reach telescopic leader rig (TM 12/15 LR) was specifically commissioned to address the current problems that infrastructure widening schemes face, which is why it is such a godsend for contractors working on smart motorway, rail, or other infrastructure-widening projects."
He added: "We believe this to be the most innovative development within the construction sector in the last 30 years and believe we can change the face of UK infrastructure projects with this new methodology.  We have invested heavily in this innovation but believe our faith will be truly vindicated.  It ticks every box a contractor could wish for and it is set to revolutionise the smart motorway programme over the next eight years."
Got a story? Email news@theconstructionindex.co.uk