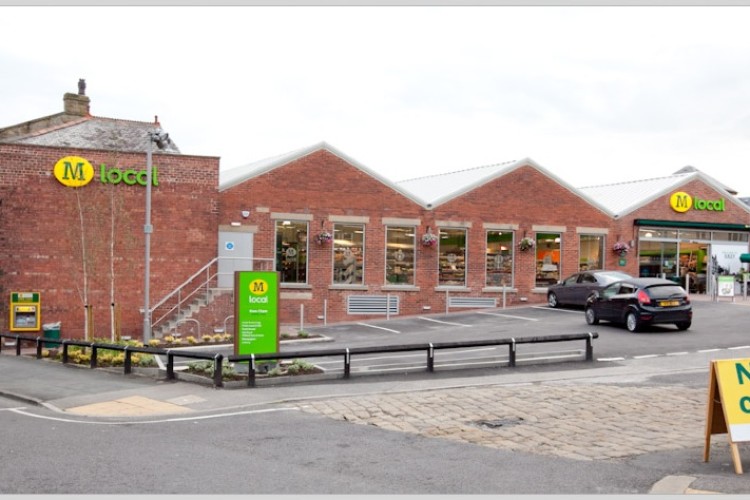 Longcross constructed the first of Morrisons' new fresh food convenience stores, at Ilkley, West Yorkshire.
The store is part of an ambitious building programme by Wm Morrison Supermarkets and Longcross has been awarded a further two contracts to deliver its vision for Neighbourhood Residential Format stores. New 'M Local' stores at Wilmslow and Widnes will follow the success of the Ilkley project. 'M Local' represents a new style of store for WM Morrison and a different type of fresh produce store for its customers.
To deliver the Ilkley store to Morrisons' timescales, Longcross worked closely with the client teamto overcome specific challenges and ultimately ensure that the resulting store was inline with original targets and expectations.
The new 'M Local' store at Ilkley has been constructed within an existing building, formerly a train shed and a wholesale outlet. Longcross applied its design and engineering expertise to make use of the space created by the existing building's envelope, including the under-croft that was previously used for storage and housed plant equipment. This was necessary in order to retain the appearance of the building.

Store Format Director for Wm Morrisons is Andy Newton. "As the first of a new style of store for us, it was important that the result was right first time," he explains, "It was therefore vital that our construction partner was a company with plenty of valuable experience in the food retail sector. Longcross embodies this, as well as benefiting from its expertise across other industry sectors from which it can pull learning. The Ilkley store has been delivered to the highest standards and is the best it can be."
Longcross was able to apply its expertise to provide advice on the specification of the convenience store from the project's inception. Key to the design of the new store was a feeling of space. Compared to standard store formats where there is some 25,000sqft in which to display products and accommodate consumers, the new Neighbourhood Residential Format comprises under 3,000sqft. Morrisons still wanted its customers to move freely around the store, within aisles over 5ft wide, browsing products at leisure.
"It was important to get the concept for the first store right, with a number of alterations and design changes in the process. The benefit is that, going forwards, Morrisons will be able to roll out its 'M Local' brand efficiently," explains Adrian Dearnley, Project Manager for Longcross.
The new 'M Local' convenience store for Wm Morrisons Supermarkets Plc is not the first project Longcross has undertaken for this client. As a main contractor with a well-established track record in the food retail construction sector Longcross has worked on several major projects for the chain. Longcross is also currently onsite in Newport, where it is building a 30,000sqft store with the aim of delivering the scheme at 30% lower than the project model costs to support Morrisons' lean development programme. 
Got a story? Email news@theconstructionindex.co.uk