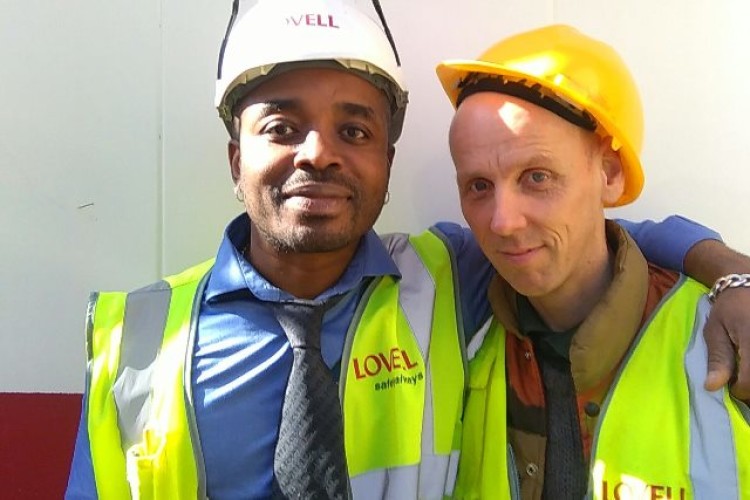 Academy Award-winning director Danny Boyle is currently directing Trainspotting 2 as a sequel to his acclaimed 1996 film based on the Irvine Welsh novel  
Housing developer Lovell welcomed the cast and crew to shoot scenes on a site in Edinburgh.
Actor Ewen Bremner reprises his role of Spud for Trainspotting 2 and was filmed working as a joiner alongside the site's carpenters. Real-life Lovell project manager Andy Frew may also feature in the finished film – he was filmed 'firing' the hapless Spud after he turns up late for work.
Around 30 crew members and half-a-dozen extras descended on the site at Wester Hailes where Lovell is building 87 houses and apartments in the second phase of a £17.3m new-build scheme for property and leisure management, development and regeneration company, Places for People.
Lovell health and safety manager William Lindsay (picture below with Danny Boyle) who monitored safety on site during the filming. He says: "The film crew were with us for about two hours for what will probably be only 30 seconds of footage in the finished film. The idea is that Spud has got his life together and is using his carpentry skills but then it all goes wrong, he turns up late, has words with the site manager and he's fired.

"It was a brilliant experience. Danny Boyle was a really nice guy, he was happy to pose for pictures and talk to everyone."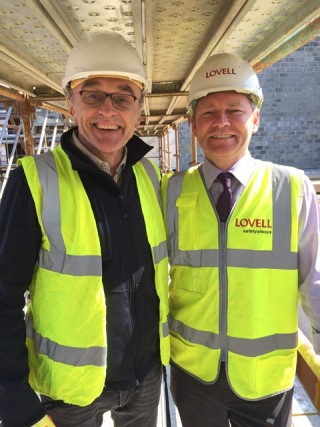 He reckons Ewen Bremner should probably stick to the day job though: "He was pretty clumsy when he was using a saw – I was worried he was going to take his thumb off!"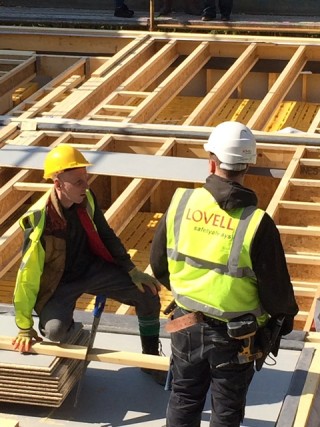 Trainspotting 2, which also sees Ewan McGregor, Jonny Lee Miller and Robert Carlyle resuming their roles from the original film, is expected to be in cinemas from January 2017.
Got a story? Email news@theconstructionindex.co.uk