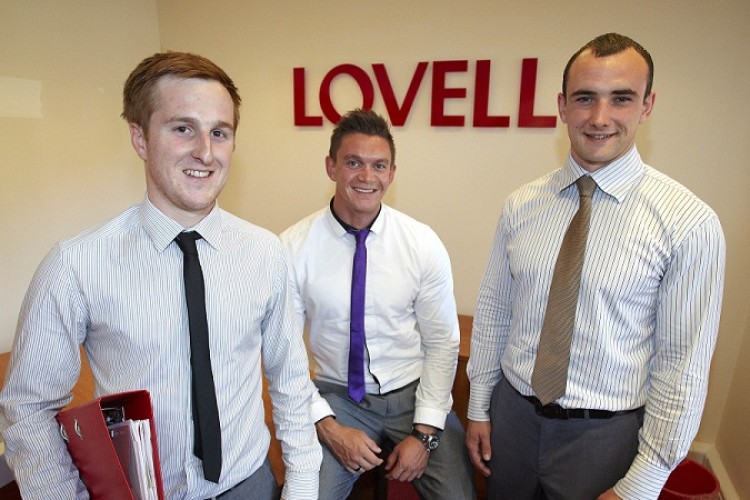 The trio: Tom Williams (23) from Cardiff, Rhys Thomas (22) from Llantwit Major and William Hamilton (23) from Gorslas, Carmarthenshire, had their degrees sponsored by Lovell and training organisation ConstructionSkills through the Inspire Scholarships programme.
Under the Inspire scheme, all three graduates received an annual contribution of £2,000 towards their university fees as well as paid work experience placements with Lovell during their holidays. Tom and Rhys did their work placements at the Lovell office in Gwaelod-y-Garth and William worked for the company in the Lovell office in Bristol.
Investing in the future
"Supporting the Inspire Scholarships is a way of ensuring that we bring the best graduates into the construction industry," explains Lovell regional training advisor Mike Davis. "We've been so impressed by Tom, Rhys and William that we have offered them their first jobs in their construction careers. The Inspire Scholarship scheme is an excellent way of identifying talented young people who have the potential to work with us in the future."
Tom, who achieved a first class Bachelor of Science with Honours (BSc (Hons)) degree in Quantity Surveying and Commercial Management at the University of the West of England, will be joining Lovell as an Assistant Quantity Surveyor. In going into the construction industry, Tom is also following a family tradition.


"I grew up around it as my grandad is a surveyor and my uncle and his sons are architects," explains Tom.  "I've worked on a building site as a labourer and enjoyed the whole site experience but I've always been more interested in the technical aspects of construction. As well as the financial support from Lovell, I was able to contact the company with any queries about my course."
Rhys, who also gained a first class BSc (Hons) degree in Construction Management and the Environment at the University of Plymouth, will be starting his career with Lovell as an assistant technical coordinator.  
"The financial support was a huge benefit as it meant I could concentrate solely on my course and not have to worry about juggling it with a part-time job. Lovell also gave me invaluable help and experience from within the company with my course," says Rhys.
William, who gained his BSc (Hons) in Construction Management at the University of the West of England, joins the Cardiff office as an assistant project coordinator.  "I'm really pleased to get this job which will enable me to progress to project manager in the future," says William.
Got a story? Email news@theconstructionindex.co.uk