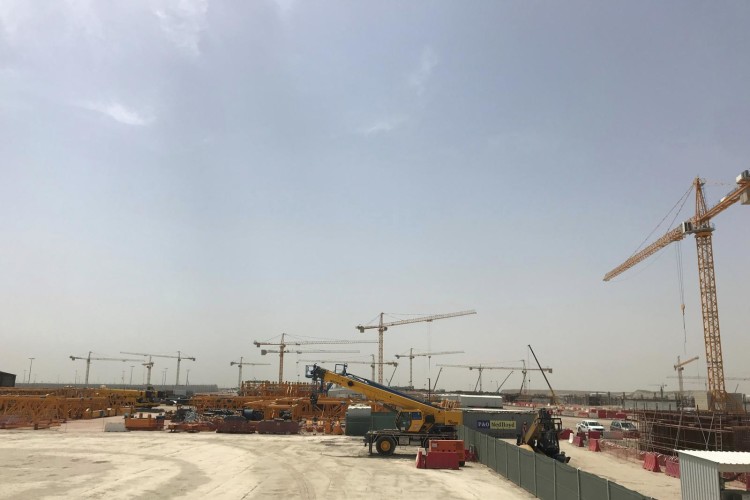 Limak Insaat is constructing the terminal on behalf of the Kuwait Ministry of Public Works.
Mammoet has been appointed by Limak Insaat to carry out transportation and installation works for the new terminal.
The contractor is also using 26 Potain tower cranes on the project, including six heavyweight MD 1100 special application cranes. Manitowoc's distribution partner for much of the Middle East, NFT, has supplied the cranes, which also include 18 Potain MD 365 units and two Potain MC 125 cranes.
The terminal has a trefoil plan, comprising three symmetrical wings of departure gates. Each facade spans 1.2km and all extend from a 25m-high central space.
Mammoet will install all precast sections of the terminal's main structure, which consists of 804 concrete elements each weighing between 200t and 360t. To complete the project, Mammoet will deploy nine crawler cranes ranging in capacity from 600t to 1600t tonnes as well as 72 axle lines of self-propelled modular transporters (SPMTs).

"Early involvement of a heavy lifting specialist is key on projects of such a large scale," said Mammoet project manager Andrew Hefft. "On this project we were able to offer our engineering input and advice on the selection of the right equipment to increase the overall efficiency of the project. Our client was able to fine tune and adapt the initial strategy to optimize the entire construction approach."
Limak İnşaat's 26 Potain tower cranes will help place a million cubic metres of concrete and more than 100,000t of structural steel. "The six MD 1100 cranes will lift the heaviest material on site including concrete beams and columns, while the two MC 125 units will lift the lighter loads," said NFT sales executive Ghady El Hachem. "The 18 MD 365 cranes are ideal for the main steel structure and will also assist with concrete handling work."
The cranes will be handling a variety of duties including the construction of the roof canopy on the terminal building, which will feature 66,000 solar panels. 
Got a story? Email news@theconstructionindex.co.uk