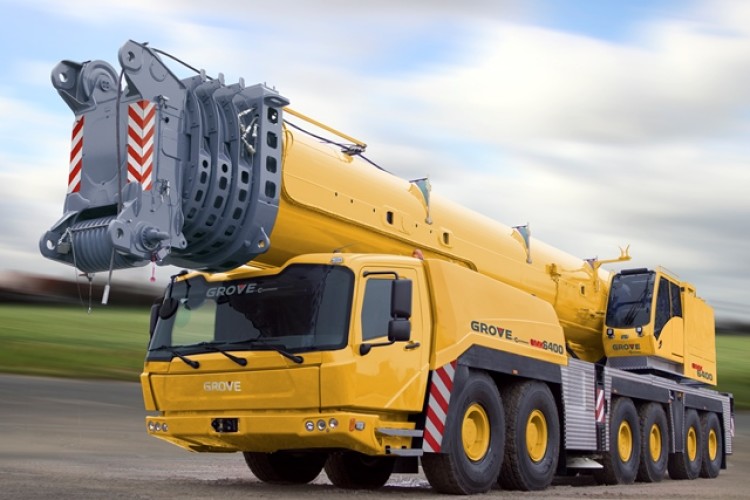 In addition, there will be a crane from the completely new range of Potain MDT CCS tower cranes.
The Grove rough-terrain crane is the GRT8100, one of the first new Grove designs since the US company set up its Product Verification Center (PVC) at its factory in Shady Grove, Pennsylvania.
The PVC allows Manitowoc to carry out an "unprecedented" level of testing on components, which it says translates into the development of more productive and more reliable cranes. At present, Manitowoc is the only crane manufacturing company operating a facility like the PVC. 
From Grove's all-terrain crane range, built at its plant in Wilhelmshaven, Germany, there will be four units on display including three new machines making their first appearance at a trade show.
Details of one of the new machines has been kept under wraps ahead of the show but the two other models, the GMK5250L and GMK4100L-1, have been announced with the promise of a number innovations, including a new single-engine design that delivers "class-leading" capacities.
Grove's GMK6400 crane, pictured above, will also be shown.
Potain cranes also feature prominently on the Manitowoc stand, with both self-erecting cranes (including the popular Igo M 14, launched at Bauma 2013) and top-slewing units on show.

From the top-slewing line the company will show its MR 418 luffing jib crane alongside the MDT 389 and MDT 219. The MR 418 was first shown at Conexpo 2014 and its appearance at Bauma heralds its European debut. Both the MR 418 and MDT 389 are notable for their capacity and size, which allow contractors to make significant cost and time savings on projects, says Manitowoc.
With a maximum capacity of 24 tonnes, the MR 418 is one of the largest luffing jib cranes from Potain. The MDT 389, with a 16 tonne maximum capacity, is the largest crane in the new CCS topless range. The MDT 219 is the largest model in the new MDT CCS City Crane range and is available in eight or 10 tonne capacity versions.
In addition to its crane products, Manitowoc is also promoting its range of support services, including its customer support division, Manitowoc Crane Care, and Manitowoc Finance, its finance arm. Lift Solutions, Manitowoc's in-house engineering service for special bespoke requests, and its refurbishment and remanufacturing arm EnCORE, are also represented.
The full line up of products from Manitowoc Cranes at bauma 2016 is:
Bauma 2016 takes place in Munich from 11 to 17 April. See www.bauma.de for details.
Got a story? Email news@theconstructionindex.co.uk