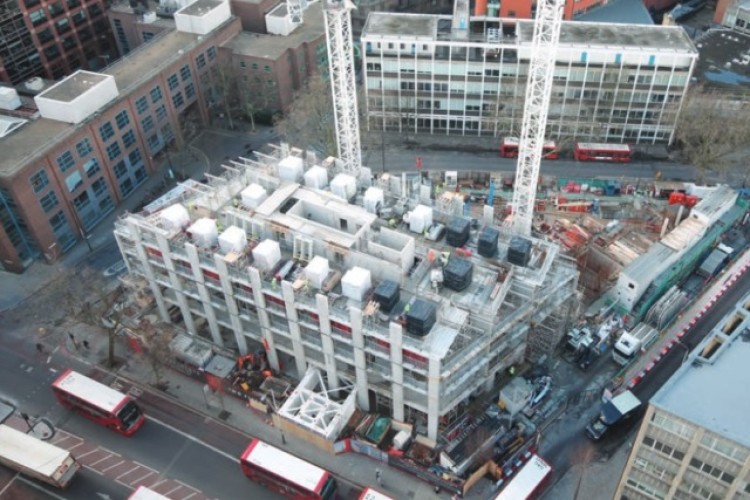 McMullen Facades, part of the Lakesmere Group, is delivering the project in partnership with main contractor Laing O'Rourke.
Developed by Oakmayne Properties and designed by architect Allies & Morrison, the new high-rise scheme is on Newington Causeway, forming part of the wider regeneration of the Elephant & Castle area of the capital.
Laing O'Rourke began on site in winter 2014 and is now at fifth floor level. External cladding of the building should begin in late April, which will also allow internal works to start above ground. Completion is targeted for winter 2017.
The development phase of the contract has seen McMullen and Laing O'Rourke collaborate to develop an off-site modular solution that they expect to bring cost, quality and time benefits to the project.

Manufacturing of the glazed modules has begun at the McMullen factory in Moira, Northern Ireland. They will then be transported to Laing O'Rourke's manufacturing facility in Steetley, Nottingham, where they will be incorporated into pre-cast concrete cladding panels. The complete pre-fabricated panels will then be delivered to the London site on a 'just in time' basis. First patio door sets are already on site ready for installation.
As the panels will be installed without the need for external access for the installation teams, the process is expected to be both quicker and safer.
As well as the design, manufacture and installation of the glazing modules, McMullen's contract includes the door systems and sliding screens. For the top 10 floors, McMullen is designing and installing a sloped unitised façade system incorporating photovoltaic panels.
McMullen Facade will also deliver a unitised facade system to the new eight-storey commercial office block that forms part of the same development. 
Got a story? Email news@theconstructionindex.co.uk