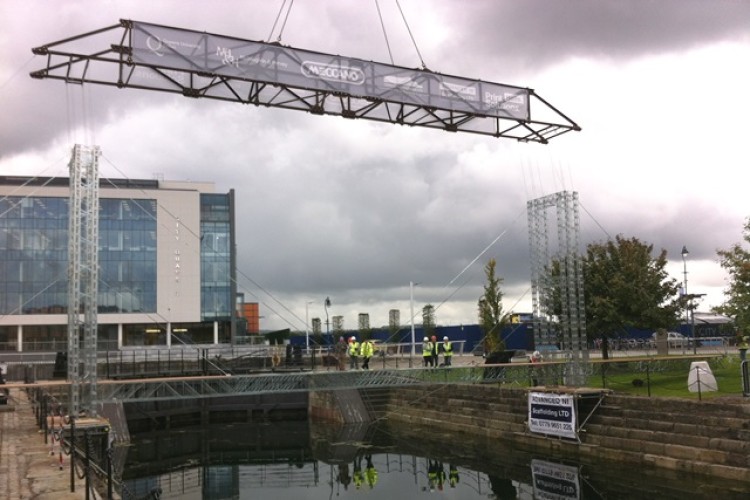 The 30-metre long structure was lowered into place by crane across the Clarendon Dock in Belfast.
The students were supported in their endeavours by contractor McLaughlin & Harvey and consultant Aecom, which delivered technical advice and assisted with the installation of the bridge.
McLaughlin & Harvey also provided resources and a warehouse in which the bridge components were assembled and tested.  Approximately 11,000 pieces of Meccano were used (excluding nuts and bolts) with a total length of nearly 4km.
Officials from Guinness World Records have confirmed that the footbridge constitutes a new world record. The attempt had the support of Meccano and also retailer Smyths Toys who were present at the Guinness Word Record verification day on Saturday 19th September 2015.
The overall length of the bridge is 28.76 metres and the main span is 18 metres. The height of bridge is 6.25 metres and it weighs 600kg. Design capacity is just 100kg.

Senior structures lecturer Danny McPolin said: "This event has been a fantastic way to celebrate the student and staff's incredible work over the past year, but also a chance to show local children more about the opportunities in STEM based careers and encourage them to consider a future studying civil engineering."
McLaughlin & Harvey chief engineer John McCarey said: "It has been exciting working closely with both the academics and students of Queen's university on this successful record attempt. Through our experience we have been able to support these engineers of the future create something that people around the world will be able to see. To have built an entire structure just from Meccano required a great deal of technical expertise and we are pleased that our team has been part of that."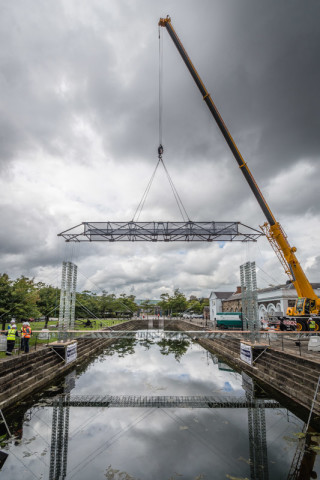 The bridge will now be dismantled and put back tidily in the toy cupboard.
Got a story? Email news@theconstructionindex.co.uk