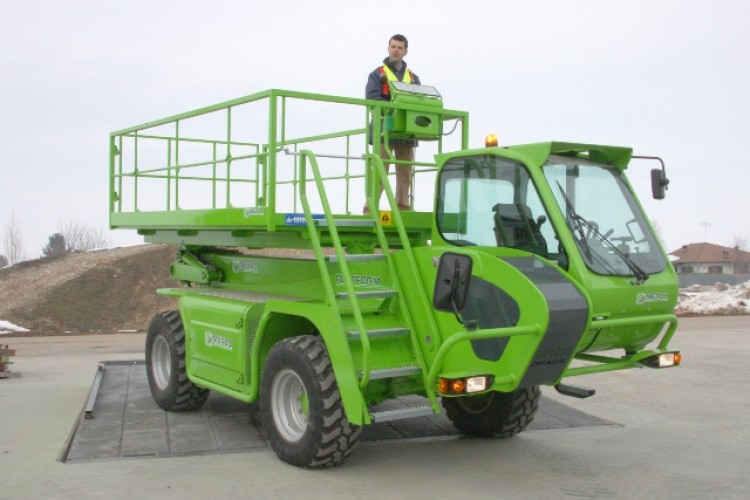 The manufacturer says that its new MPF concept combines the benefits of a conventional self-propelled work platform with the off-road mobility of a telehandler, and roadability of a truck-mounted platform.
With the platform down, it can drive on the highway at 40km/h (25mph). With the platform up, it can lift six people (1,000kg max) to a working height of 15.7m.
Maximum operating forward reach of the platform is 10.3m fully loaded or 11.8 m with 500kg on board.
The core of the system is a purpose-designed self-propelled rough terrain chassis, fitted with a cab, telescopic boom and big 4m x 2m platform.
Merlo says that this concept provides the safety of eliminating conventional scaffoldings and mobile scaffold towers without the extended travel time of traditional self-propelled platforms.  Off-road capability is also superior to that of truck-mounted platforms.
On-site, it gives stability and safety by providing frame tilt.  The suspension adjusts both side tilt (up to ±9° or 16%) and longitudinal tilt (up to ±5° or 9%).  A button is pressed for automatic levelling.

Standard equipment includes a 220V outlet with a mains switch at the bottom of the boom, and a hose for either air or water.  Slewing the platform 180 degrees when elevated creates a 7.5m walkway for personnel.
Personnel access is through a front gate, while the rear can be opened to load materials.
The boom design is developed from the established Roto series.  As with other Merlo machines, the drive mechanism is fully housed within the boom to protect from site damage.
Dimensions of the vehicle are: 2280mm wide, 6350mm long, 2940mm high and 12,800kg in weight.
Got a story? Email news@theconstructionindex.co.uk