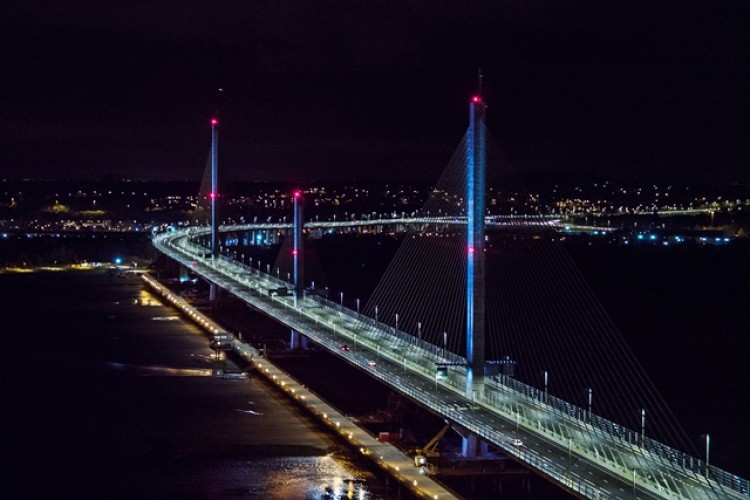 The 1,000m-long crossing of the River Mersey between Runcorn and Widnes opened just after midnight on the morning of Saturday 14th October 2017.
It was built by the Merseylink construction joint venture, made up of Kier Infrastructure and Overseas (UK), Samsung C&T Corporation (South Korea) and FCC Construcción (Spain). Equity partners of the privately financed toll bridge are UK based BBGI, FCC Construcción from Spain and Macquarie Capital Group from Australia. Client is Halton Borough Council.
The Mersey Gateway Bridge comprises a 2.2km long elevated section with a central 1,000-metre cable stay bridge – 1,300km of cables connect the three pylons to the bridge deck.
The overall project, including links to the existing network, comprises more than nine kilometres of new roads, seven junctions, 12 new bridges and an integrated traffic control information system that uses smart road technology.


More than 25,000 people from at least nine different countries have worked on the project, with construction taking five million man-hours.
Halton Borough Council leader Rob Polhill, who is also chair of the Mersey Gateway Crossings Board, said: "After three-and-a-half years of hard work I am proud to announce the Mersey Gateway Bridge is open. It's been a busy project which has reshaped our borough, and led to a huge amount of work across it. I'd like to thank everyone who has had to navigate through roadworks and traffic lights as our hard-working team built the new bridge and its associated roads.
"Now the project has been completed on time and under budget, it stands as an iconic, landmark structure that will help to put Halton on the map, while eliminating congestion across the borough. It will help make Halton a destination where businesses want to invest and families want to live. I would like to give a big thank you to everyone involved in turning our dreams into reality."
Juan Manuel Dochao, construction director of Merseylink CCJV, said: "The project is more than just a bridge – the regional economic strategy identifies Mersey Gateway as a transformational project. It is the catalyst that will connect communities and lead regeneration and investment throughout Halton and the northwest. The iconic design of the bridge will put the local area, Liverpool and the northwest region firmly on the map and will encourage attention from all over the world."
Got a story? Email news@theconstructionindex.co.uk