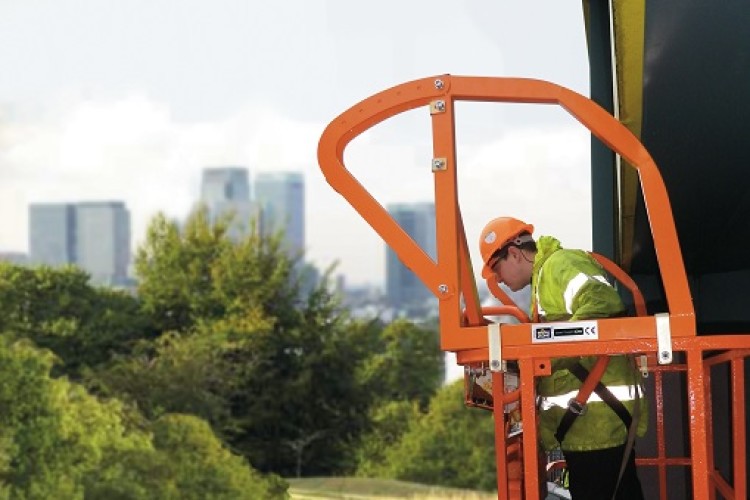 Powered access manufacturers have always prided themselves on offering machines that, usually, provide a safer method of working at height.
But unforeseen circumstances are never far away.
Recently, there has been a spate of accidents involving the operator being crushed to death against aerial obstacles such as a roof or steelwork.
In several cases, the operator's body was crushed over the control panel, trapping the controls in the 'on' position and making the crushing worse. Workmates on the ground have often not even realised what was happening and, even if they did, had limited scope for effecting a rescue.
It was this type of accident that prompted an alert from the Health & Safety Executive back in October 2005.
Since then the industry has been trying to come up with a solution.
The Strategic Forum for Construction Plant Safety Group two years ago published Best Practice Guidance for MEWPs: Avoiding Trapping / Crushing Injuries to People in the Platform.
This document sets out, as its name suggests, best practice regarding job planning and risk assessment. It also flags up the importance of correct machine selection, familiarisation and training.
Niftylift rises to the challenge
At that time only UK manufacturer Niftylift had risen to the challenge thrown down by contractors – to produce a safety system to prevent operators being crushed. Niftylift's launched its Sustained Involuntary Operation Prevention System, or SiOPS in September 2009 and has since put hundreds of machine with this technology into the UK market. SiOPS cuts out the machine as soon as it senses pressure from the operator's trapped body against the frame of the control panel.
More recently, others have been busy developing product enhancements that minimise the risk of crushing and trapping accidents. The solutions fall into two types – active smart systems that use sensors to detect a collision and cut out the machine, and passive mechanical systems that use roll bars or steel frames to protect the operator.
For certain US manufacturers to start offering such additional safety features is quite significant, since they have first had to conquer their fears that some lawyer might suggest that the previous omission of these features implied some kind of neglect on their part.
Terex Genie, for example, has now begun offering its Operator Protective Structure (OPS) as an optional extra for installation on new or old articulating or telescopic booms to protect operators in the event of contact with an overhead obstacle in some applications.
"Ultimately, the operator, in conjunction with the worksite supervisor, is responsible for identifying and avoiding overhead obstacles," says senior product manager Scott Krieger. "But as a secondary measure, Genie is working both independently and with various partners to provide protective solutions for a variety of site conditions."
Genie's attachment is a tubular steel structure that shrouds the control panel to protect the operator. It weighs 17kg and is bolted directly on the boom's platform without the need for any modifications.
Sanctuary from AFI

A broadly similar but slightly bulkier passive solution has been devised by AFI, the UK's second largest powered access hire company. AFI's Sanctuary Zone attachment comprises a pair of steel frames that effectively raise the height of the left and right sides of the basket.
AFI came up with the concept and then got input from the Health & Safety Executive and manufacturers Genie and Haulotte to refine it for specific machines. AFI is making Sanctuary Zone available to other MEWP owners, including competitors.
While the initial designs are for boom lifts, AFI is also working with manufacturers to adapt it for fitting onto scissor lifts.
Austin Baker, director of AFI's health, safety and environmental quality (HSEQ) department, says: "If we accept that operators are placing their upper torso into areas that allow entrapment in the first instance then it is our duty to redesign that equipment in order that this risk is removed or minimised. There should be no reason why an operator needs to lift access into a position whereby he is forced to work in a hunched or bent over position."
He adds: "It seems accepted within the industry that the cages of powered access equipment are often placed into areas that directly impinge upon the area that is designed for the operatives to stand. We routinely see operatives working crouched up to pass under beams or close to the undersides of overhead structures. This process must be stopped and these rails force operatives to respect their own safety."
Both the Genie and the AFI solution to preventing crushed operators are based on creating physical barriers.
Aside from Niftylift's SiOPS, the only other active solution on the market today is the SkySiren from Nationwide Platforms, the UK's largest access hire company. Similar to SiOPS, SkySiren uses a pressure-sensitive strip that is fitted across the control panel. When it detects that the operator is being pushed against it, the machine cuts out. Additionally, an audible alarm sounds to alert workmates of the emergency.
SkySiren at Heathrow
The system will be used on most of the 150+ platforms that Nationwide is supplying to Balfour Beatty and its subcontractors over the next two years on the £750m project to build a new satellite pier at Heathrow Terminal 2 (T2B).
SkySiren was developed by a company called Blue Sky Access that specialised in developing safety and efficiency devices and attachments for powered access platforms. Nationwide acquired Blue Sky in October 2011 for £6m.
While the SkySiren is a more sophisticated solution, AFI argues that a simple physical barrier that prevents an operators being struck, rather than reacting to it after it has happened, ranks higher in the hierarchy of safety.
"Once an operator is trapped we only have minutes to react and rescue them and we know that even if released quickly the likelihood is that they will have severe injuries," says Baker. "Obviously it is far better to prevent the incident from happening."
US manufacturer JLG is also developing an active system that it calls SkyGuard. It exhibited it in prototype form at the Intermat exhibition in Paris in April. Like SkySiren, and unlike SiOPS, it is designed for retrofit in the field rather than integrated within the platform control system.
Skanska has been working with the powered access industry on safety research and development since a fatal accident involving a MEWP on one of its UK sites in 2008. As of 2 April this year, Skanska UK has required all boom-type MEWPS on its sites to have additional crush protection fitted and wants the entire UK construction industry to follow suit.
With this kind of pressure from major contractors on manufacturers and rental companies to step up their game in safety, both active and passive protection systems are set to become more familiar.
Perhaps in time they will be designed in, as Niftylift has done, rather than offered as retrofitted afterthoughts. It is time for manufacturers to stop worrying quite so much about liability and a little more about responsibility. 
Got a story? Email news@theconstructionindex.co.uk