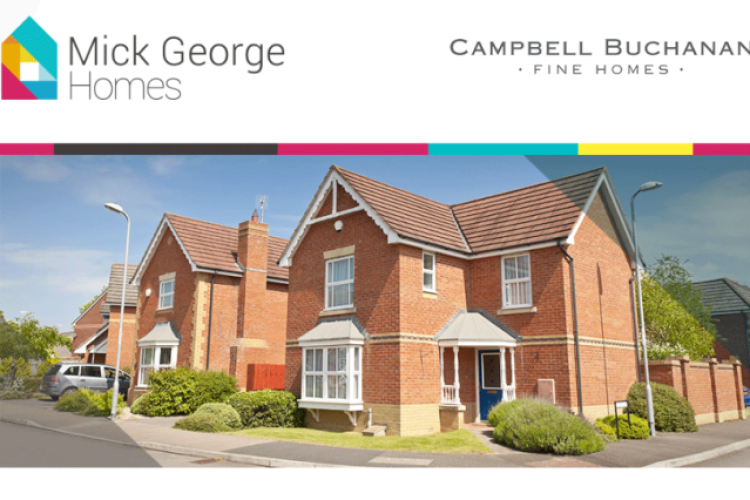 Mick George Ltd and housebuilder Campbell Buchanan have launched a joint venture called Markham & George Property to build Mick George Homes.
Mick George began in Cambridgeshire with a single tipper truck in 1978. It now provides bulk excavation and earthmoving services, demolition and asbestos removal, skip hire and waste management, and aggregate & concrete supply. In 2016 it set up a mechanical & electrical division. In 2017 it set up Mick's Mates as a domestic maintenance service.
Mick George is already well established as a supplier of groundwork and site preparation services to house-builders in East Anglia and the Midlands, including Campbell Buchanan. It is now bringing this experience to provide improved cost control to the house-building process.
Both Campbell Buchanan and the newly created trading brand, Mick George Homes, will sit within Markham & George Property Ltd. The Campbell Buchanan brand will be for what are described as 'aspirational' homes and the Mick George brand will be for 'lifestyle' homes.
Work has begun on a number of new sites to build bespoke design, traditional houses that will contain a mixture of homes from both brands.

Markham & George plans to sell more than 100 units in the first 12 months, with the first completions expected in March 2018.
Campbell Buchanan chief executive Toby Markham said: ''We are delighted that we have brought together two companies with such deeply embedded cultures of quality, responsibility and integrity, after years of trading successfully together delivering developments throughout our region. The combined forces will allow us to pursue solid organic growth in the housing sector throughout our trading territories, as always, focusing upon the regeneration and development of previously used land.
"The unique and market leading expertise that Mick George Ltd has in demolition, remediation and ground works will provide a greater surety of cost which will allow us to focus even more aggressively on brownfield sites; sites that although provide challenges, also provide opportunities for high quality schemes within mature and well located positions."
Michael George, contracts director at Mick George Ltd, said: ''Having worked closely alongside Campbell Buchanan for many years, not only have we built a strong relationship, but we've become particularly well versed in the requirements needed to suitably deliver high-standard homes.
"Throughout our business, we possess a wealth of experience in many aspects associated with property building, from earthworks, civil engineering, and trade disciplines to mention just a few. For that reason, a collaboration between ourselves and Campbell Buchanan seemed the logical route for both parties to take, especially with us entering what is technically a new market for us."
Got a story? Email news@theconstructionindex.co.uk